---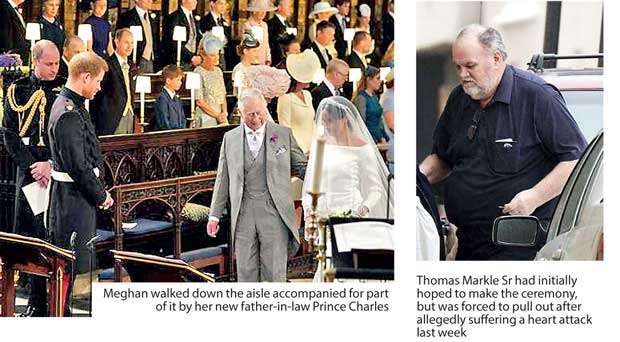 DAILY MAIL,22 May 2018 - Shoulders slumped, shuffling, and clutching a plastic bag marked 'personal possessions', this is Meghan Markle's father pictured two days after the Royal Wedding as he returned home from hospital.
Exclusive photos were taken in his adopted hometown of Rosarito, Mexico, where he is recovering from a heart operation.

Thomas Markle Sr had initially hoped to make the ceremony, which took place on Saturday morning, but was forced to pull out after allegedly suffering a heart attack last week.

On Wednesday, he was admitted to hospital for an operation to insert three stents.

Since being released from medical supervision, Markle Sr has been staying with friends in a different gated compound a few miles from his home.

He returned to his San Antonio Del Mar property Monday - driven in by a friend, single mom Lori Davis, 38, with whom he has previously been pictured enjoying a dinner date.

At some point, Markle Sr surprisingly stopped at a Starbucks drive-thru and appeared to walk away with a Frappuccino in hand, whipped cream and chocolate on the top, despite the 73-year-old having heart surgery last week.

His return home came days after Meghan walked down the aisle accompanied for part of it by her new father-in-law Prince Charles.

Markle Sr is understood to have watched the ceremony, later pronouncing it 'joyful and emotional' in an interview.