---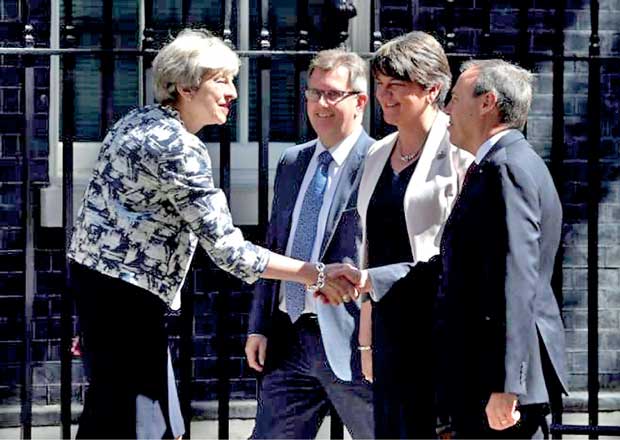 Prime Minister Theresa May struck a deal on Monday to prop up her minority government by agreeing to at least 1 billion pounds ($1.3 billion) in extra funding for Northern Ireland in return for the support of the province's biggest Protestant party.

After more than two weeks of talks amid political turmoil sparked by May's failure to win a majority in a June 8 snap election, May can now be sure her government can pass a budget and Brexit legislation.

May and Democratic Unionist Party (DUP) leader Arlene Foster presided at the signing of a three-page so called 'confidence and supply' deal at Downing Street that is some way short of a more formal coalition agreement.

The deal means the DUP's 10 lawmakers will now vote in support of May's 318 Conservatives in the 650-seat parliament on the budget, legislative agenda, motions of confidence and Brexit.

In return, May agreed to least 1 billion pounds ($1.3 billion) in extra funding over two years for Northern Ireland, agreeing to raise pensions annually by at least 2.5 percent and to keep universal winter fuel payments for the elderly.

"I welcome this agreement which will enable us to work together in the interest of the whole United Kingdom, give us the certainty we require as we embark on our departure from the European Union, and help us build a stronger and fairer society at home," May said in a statement.

May laced her deal with an attempt to end Northern Ireland's political crisis by stipulating the money would only be released to a power-sharing executive in Belfast, upping pressure on the DUP to make an agreement with their Catholic nationalist rivals.