---
(Daily Mail; London) - The decaying bodies of 15 suspected ISIS fighters have been found shot dead on the side of a road in Mosul.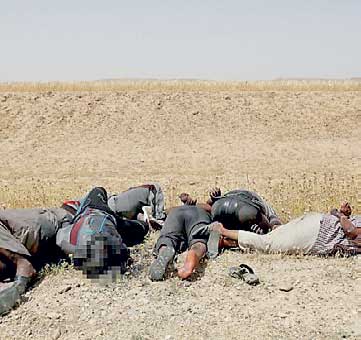 The men, all blindfolded and bound, are believed to have been killed and left out in the scorching heat by Iraqi militiamen who are rounding up terrorists.

They were found in territory held by government forces, around 20 km from the front line, where Iraqi troops are fighting to dislodge ISIS.

Two of the men had been marched a short way into the field, where one was apparently forced to kneel before being shot from behind.Human Rights Watch say the men were likely killed by forces affiliated with the Iraqi regime, who are rounding up thousands of suspects as they capture territory from ISIS.