---
Taiwan, (daily Mail), 13 July 2017 -
Two MPs got into a shocking brawl on live television as tensions over a Parliamentary debate boiled over.

The pair exchanged slaps and tried to strangle each other during a session to discuss the island's plans for infrastructure reform.

The fracas broke out while opposing MPs from the Kuomintang (KMT) party chanted protests against President Tsai Ing-wen's plan.

Democratic Progressive Party (DPP) lawmaker Chiu Yi-ying, 46, walked up to the group of MPs and began arguing.

KMT MP Hsu Shu-hua, 41, responded in kind.

The two women scuffled and Chiu was even slapped across the face, leaving President of the Legislative Yuan, Su Chia-chyuan, repeatedly calling for calm and order.'Everyone is watching,' Su can be heard saying.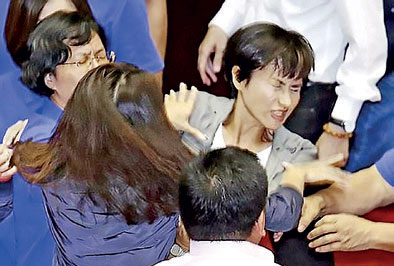 The KMT protest was prompted by claims the 420 billion TWD (£10.7 billion) reform favoured cities and counties loyal to the ruling DPP.