---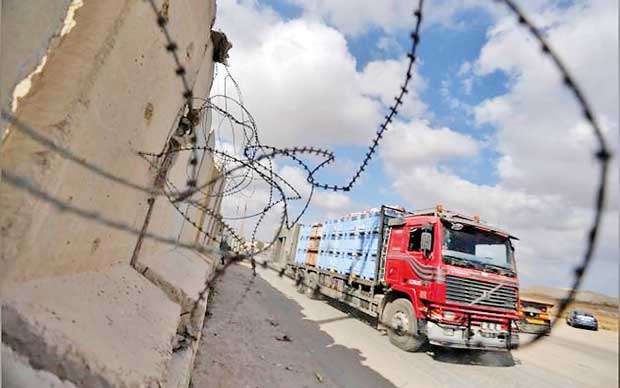 Israel allowed commercial goods back into the Gaza Strip on Wednesday, in a sign of an easing of tensions as neighbouring Egypt pursued a long-term ceasefire between Israel and Hamas, the Palestinian enclave's dominant armed faction.

But the prospect of an agreement between Israel and the Islamist group prompted concern within Prime Minister Benjamin Netanyahu's right-wing government that Hamas would take advantage of any respite from fighting to build up its rocket arsenal.

At Israel's Kerem Shalom commercial crossing with Gaza, consignments of fruits and vegetables, fuel and construction material moved into the territory of two million people on Wednesday morning, a Reuters camera crew said.

Israel announced on Tuesday it would lift the commercial goods ban it imposed on July 9 in response to the launching by Palestinians of incendiary balloons across the frontier.

There have been fewer reports in recent days of such incidents, which have burned large tracts of agricultural land and forests in southern Israel.

Israel also expanded Gaza's fishing zone, in waters under Israeli naval blockade, from 3 to 9 nautical miles off the southern coast and to six nautical miles in the north, an area closer to the Israeli border, the head of Gaza's fishermen's union said.

Prior restrictions on the import of commercial goods that Israel says could also be used for military purposes remained in effect, a Palestinian border official said. He said they included balloons and tires.

"As long as the residents of Israel enjoy security and calm, you, the inhabitants of Gaza, will benefit," Israeli Defence Minister Avigdor Lieberman said in remarks broadcast on Army Radio. "If violence resumes, you will be the first to lose." GAZA (Reuters), AUGUST 15, 2018 -