---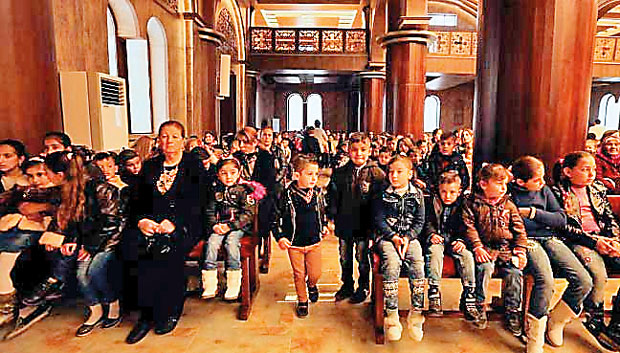 Christians celebrated Christmas in Iraq's second city of Mosul for the first time in four years today - and hymns and cries of joy flooded the church.

The seasonal event marked the end of jihadist rule in the city and the Mass opened with the Iraqi national anthem as women wailed with emotion.

Despite the modest interior of the church and the armoured police outside, wheelchair-bound Hossam Abud, 48, who returned this month from exile in Iraqi Kurdistan, said: 'This is a sign that life is returning to Mosul.' In 2014 when the Islamic State group seized the city ordering people to convert, pay taxes, leave or die, Mr Abud and thousands of other Christians fled Mosul. Patriarch Louis Raphael Sako of Iraq's Chaldean Catholic Church called on the congregation to pray for 'peace and stability in Mosul, Iraq and the world'.

'With this mass, we're sending a message of peace and love, because Christ is the messenger of peace.'

Saint Paul's church in east Mosul saw Muslims stand together today with Christian worshippers and local officials surrounded by candles and Christmas trees. As a reminder of the city's bleak recent history a portrait of a Christian killed under IS rule was displayed outside the church.

Iraqi forces expelled the jihadist group from Mosul in July after months of ferocious fighting.

Large parts of Syria and nearly a third of Iraq were once ruled over by the organisation who were decimated in a string of defeats.
Daily Mail