---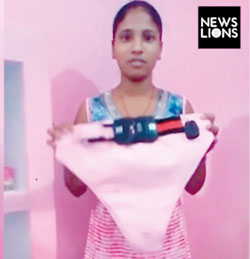 Uttar Pradesh, (Daily Mail), 8 Jan 2018 - An Indian girl has developed what she claims are rape-proof underwear featuring a lock, a GPS alert for police and a video camera to record an attacker's face.
Seenu Kumari, who was born into a poor family in Farrukhabad, Uttar Pradesh, spent less than £50 in creating the pants which comes with an emergency call button and a combination lock.

The pink garment, which the teenager is hoping to take to the wider market, is also bulletproof and cannot be cut by a knife. Sexual abuse, rape and child molestation is not uncommon in Uttar Pradesh, with women regularly attacked in the street and rape pornography sold over the counter for as little as 12p.

Kumari said: 'I have put a smart lock that won't open till you key in the password. I have also installed an electronic device that is equipped with a GPS and calling facility.

'When somebody tries to molest a woman, this device will send out messages to relatives of the woman and also to the police.