---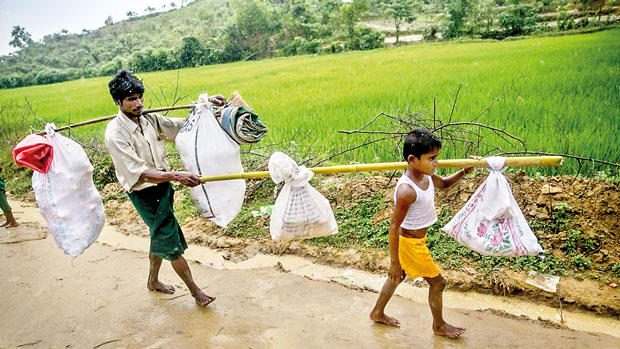 New Delhi, (Hindustan Times), 23, Sept. 2017 - India has stepped up security along its largely porous eastern border with Bangladesh and is using "chilli and stun grenades" to block the entry of Rohingya Muslims fleeing from violence in their homeland of Myanmar, officials said on Friday.

Prime Minister Narendra Modi's government is growing increasingly hostile towards the Rohingya in India, with Home Minister Rajnath Singh calling on Thursday for their deportation as illegal migrants.
Border forces, which wants to deport around 40,000 Rohingya already living in the country, citing security risks, have been authorised to use "rude and crude" methods to stop any infiltration attempts.
"We don't want to cause any serious injury or arrest them, but we won't tolerate Rohingya on Indian soil," said a senior official with the Border Security Force (BSF) in New Delhi.

"We're using grenades containing chilli spray to stop hundreds of Rohingyas trying to enter India ... the situation is tense," added the official, who declined to be identified as he was not authorised to speak to media.

More than 420,000 Rohingya have fled to Bangladesh since Aug. 25, when a co-ordinated attack by Rohingya insurgents on Myanmar security forces triggered a counteroffensive, killing at least 400 people, mainly militants.