---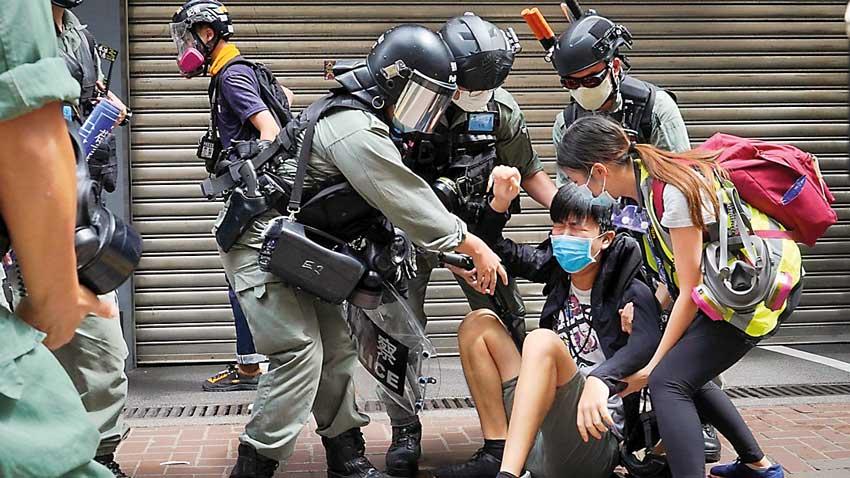 01ST JULY, 2020 - Police said they arrested more than 180 people on Wednesday at a protest in a busy Hong Kong shopping district as a new national security law imposed by China came into force.

Police told dpa that seven of the arrests made were for violating the national security law, but gave no further details. The remaining arrests were for unlawful assembly, possession of weapons and public disorder.

Before the arrests were made in the Causeway Bay area, police displayed purple warning flags to caution demonstrators they could be arrested for secession under the new law if they did not halt their activity.

The protest was sparked by the law and comes as Hong Kong marks 23 years since its handover to China from British rule.

One man arrested displayed the slogan "Hong Kong Independence" - an act that could now come with a potential heavy prison sentence.

Hong Kong's Chief Executive Carrie Lam and other top government officials in the Chinese-ruled city discussed details of the law at a press conference Wednesday, the first full day of its implementation.

Lam said that she was pleased by the recent passing of two important pieces of legislation that have stirred unrest: the new national security law as well as the National Anthem Law before that, which makes it an offence to mock the patriotic song.

Lam said the law would safeguard Hong Kong citizens rights and freedoms, despite fears to the contrary.

"I still believe the great majority are law abiding citizens who want stability and prosperity," she said. "The purpose of this legislation is to deter, not just to punish."

Secretary for Security John Lee said he wanted to ensure that people knew the gravity of offences and said that everyone should take it seriously. "Please do not try to test our bottomline," he said. "Please don't break the law."

The police announced that they would deploy between 3,000 and 5,000 officers in light of potential unrest on Wednesday.