---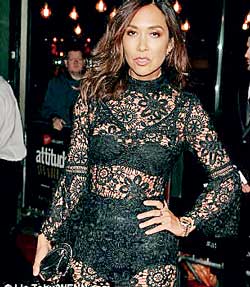 (Daily MAil), 12 October 2017 - TV presenter Myleene Klass was offered a 'sex contract' by Harvey Weinstein over lunch at the Cannes Film Festival in 2010, she has claimed.

But the former Hear'Say star, then aged 32, told the movie mogul to 'f*** off'.

Myleene, now 39, was apparently under the impression that the movie mogul wanted to discuss her career. A friend of the singer told The Sun: 'She thought his intentions were genuine. But as soon as she found out what he really wanted, she told him to f*** off.' It comes as the Metropolitan Police announced today it is reviewing an allegation against the producer dating back to the 1980s after Merseyside Police received a tip-off and referred it to them.There has been an avalanche of claims of sexual impropriety made against the 65-year-old by some of the movie industry's most famous actresses in the last few days.

CAP: Ms. Klass claimed Harvey Weinstein offered her a 'sex contract' over lunch at the Cannes Film Festival in 2010