---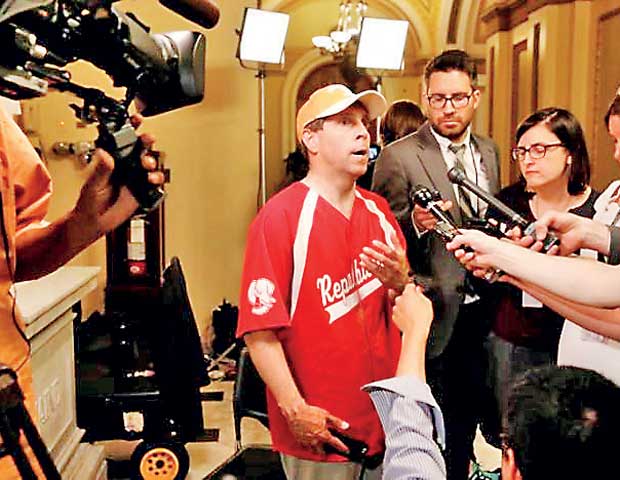 REUTERS, 14th JUNE, 2017-A gunman opened fire on Wednesday on Republican U.S. lawmakers who were practicing near Washington for a charity baseball game, wounding senior Republican leader Steve Scalise and several others before being taken into custody, police and witnesses said.

The gunman died later of his injuries, President Donald Trump announced at the White House.
Lawmakers said the shooter, who was armed with a rifle, had exchanged fire with Capitol Hill police who were at the scene and was shot before being taken into custody.

Scalise, No. 3 in the House of Representatives Republican leadership, was shot in the hip at the baseball field in Alexandria, Virginia. He was tended to by fellow lawmakers including Brad Wenstrup, an Ohio congressman who is a physician, before being transported to a hospital.

Five people were taken from the scene to hospitals, Alexandria's police chief, Michael Brown, told reporters. Two of the wounded were Capitol Hill police, witnesses said. Trump, a Republican, said Scalise, a Louisiana congressman, was "badly injured" but in stable condition. He said two of the wounded were congressional staffers.

At a news conference, authorities declined to identify the suspect. The Washington Post, quoting unnamed law enforcement officials, identified him as James Hodgkinson, 66, of Belleville, Illinois. The Post reported that he owned a home inspection business.