---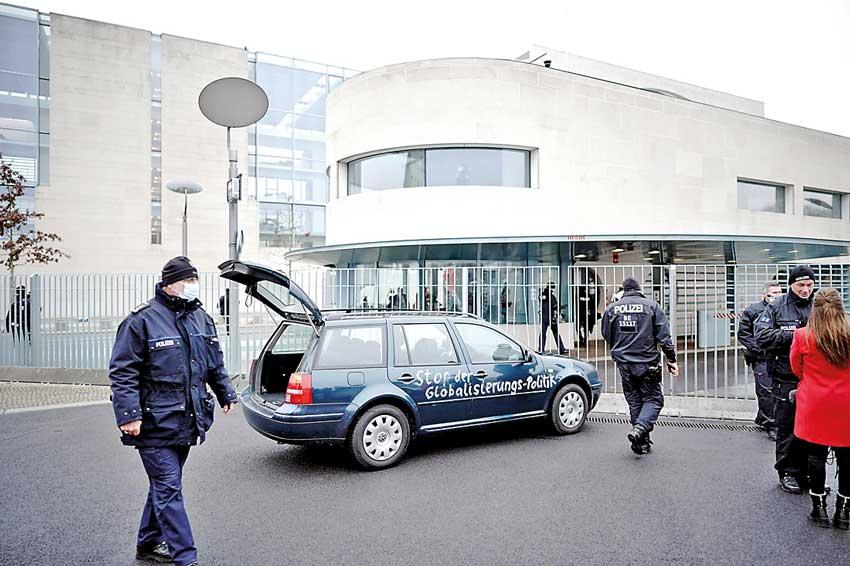 DPA, 25TH NOVEMBER, 2020- German police have detained a man after a car with political statements scrawled on its sides was driven into the gate of Chancellor Angela Merkel's office in Berlin on Wednesday.

Footage of the incident shared on social media showed police officers inspecting a vehicle with political slogans daubed in white paint on the body of the dark-blue car.

One side read, "You damned children and old people murderers," and the other, "Stop globalization politics."
Both the chancellery's gate and the vehicle were only slightly damaged in the incident.

A dpa reporter at the scene said the front of the car had struck at least two of the gate's metal bars when it hit the structure at around 10 am (0900 GMT).

Police said officers were able to swiftly detain the man at the scene.

The suspect was identified in a police tweet as a 54-year-old man.

Investigators are looking into whether the man drove the car into the gate deliberately, police said.

Police have cordoned off the area and ambulances were standing by. One person was seen being treated in an ambulance for minor injuries.

Cars are banned from entering the area in front of the chancellery, although the road is accessible to cyclists.
Merkel had been holding a Cabinet meeting at the time of the incident.

A government spokesman said that the 66-year-old chancellor, her ministers and others working at the chancellery were not in any danger.

Merkel is scheduled to hold a video conference with the premiers of Germany's 16 states on Wednesday afternoon to discuss the nation's response to the coronavirus pandemic.

Berlin's government district has been the target of mass protests recently against coronavirus-related restrictions, with right-wing extremists and conspiracy theorists among the demonstrators.

It remains unclear whether there is any link between the protests and the incident with the vehicle.
According to media reports, the same vehicle was used in a similar stunt in 2014.