---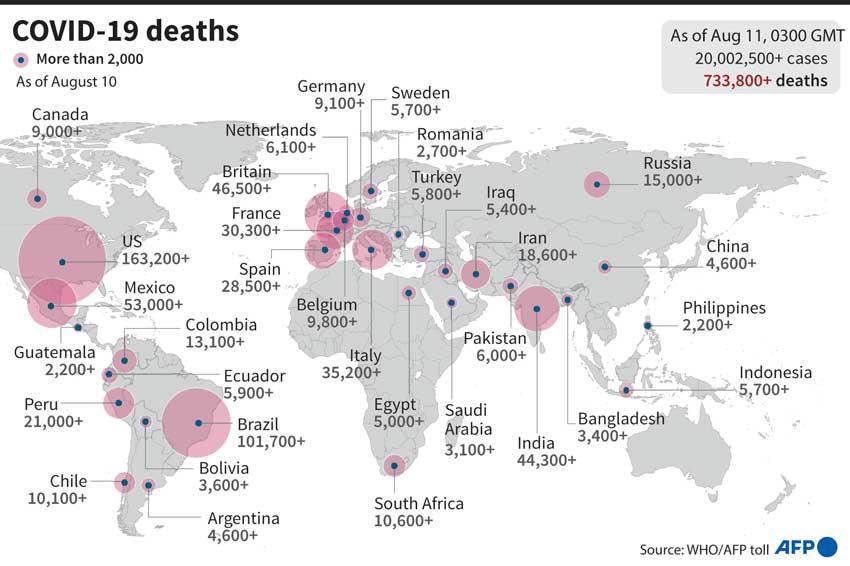 The global number of Covid-19 cases has reached 20million, according to the Johns Hopkins University Coronavirus Resource Centre.

It marks a major milestone in the spread of the respiratory disease that has so far killed 734,000 people in just over eight months.

A quarter (five million) of diagnosed infections have been in the US, where daily cases are continuing to rise.

Brazil comes second, having reached three million cases, followed by India (2.2million), Russia (almost 900,000) and South Africa (560,000).

Health officials believe the real figure of cases worldwide is in fact far higher due to testing limitations and the fact as many as 40 per cent of people infected have no symptoms. The US has also suffered the most deaths at 163,331, while there have been 101,000 in Brazil, 52,000 in Mexico, 46,611 in the UK and more than 44,000 in India.

Since the coronavirus was first detected in China in December 2019, it has spread across the world relentlessly.

It took almost six months to reach 10 million cases after the first infection was reported in Wuhan, China, in early January.

But it's taken just 43 days to double that tally to 20 million, meaning cases appear to be accelerating globally, rather than slowing down. On August 8, India reported a record high of 65,156 new cases. It's now reporting around 59,000 cases per day.

Days earlier, on July 29, Brazil recorded a staggering 70,869 infections in one day. It's daily average has showed signs of stabilising at around 43,000.
-US, (Daily Mail)