---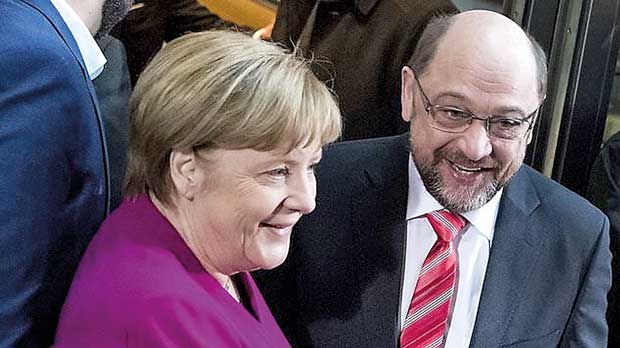 Germany, (Daily Mail), 7 January 2018 -
Germany's Angela Merkel said she was optimistic her conservatives and the centre-left Social Democrats could join forces as they started talks on forming a new government and reviving the 'grand coalition'.

It marked an attempt to break an impasse more than three months after the country's election.
Mrs Merkel's conservative Union bloc and the Social Democrats have run Germany together for the past four years.But the Social Democrats vowed to go into opposition after a disastrous election result on September 24, and only reluctantly reconsidered after Mrs Merkel's attempt to build a coalition with two smaller parties collapsed in November. The effort to form a government has already become post-Second World War Germany's longest.The week of meetings between Merkel's conservative alliance and the Social Democrats will examine whether both sides have enough common ground to begin formal coalition negotiations towards a new government by March or April. As she arrived at the SPD's headquarters for the meeting Mrs Merkel said: 'I am going into these talks with optimism. At the same time it is clear to me that we will have an enormous amount of work in front of us over the next few days but we are willing to take it on and to bring a good result.