---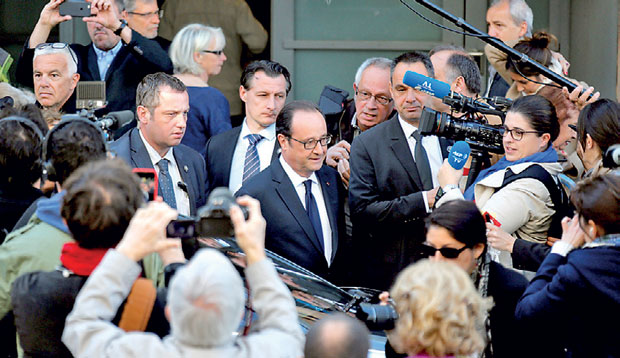 Over a quarter of registered voters cast their ballots by midday Sunday in the first round of the French presidential election that is being watched eagerly across Europe and further afield.
The turnout of 28.5 per cent in mainland France was in line with the last election, in 2012, won by socialist President Francois Hollande, and slightly below the midday turnout of 31.2 per cent in 2007.
Final polls showed a race too close to call, with four leading candidates within a few percentage points of each other.

Far right leader Marine Le Pen and leftist Jean-Luc Melenchon have both vowed to reshape the European Union or pull France out of at least some of its structures.

The top two candidates in Sunday's vote will go through to the decisive second round on May 7. Centrist Emmanuel Macron, a pro-European social and economic liberal who is favourite in the polls, was the first of the big four candidates to cast his ballot.

The 39-year-old former economy minister voted along with his wife Brigitte in the town hall of Le Touquet, a seaside resort north of Paris.

It was the same building where Macron and Brigitte, his former schoolteacher, wed ten years earlier.
Le Pen voted in the former mining town of Henin-Beaumont, a one-time socialist stronghold that like many places in post-industrial northern France has swung to the far right.

Conservative former prime minister Francois Fillon, whose campaign has been rocked by allegations that he gave his wife a fake taxpayer-funded job as his parliamentary aide, queued with other voters to cast his ballot in Paris' well-heeled 7th arrondissement.
DPA, 23rd APRIL, 2017