---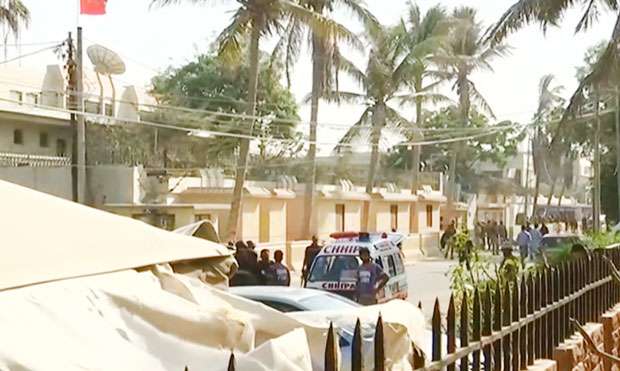 The Chinese Consulate in Karachchi came under attack yestarday (Daily Mail)
Four people were killed on Friday when gunmen armed with hand grenades and a suicide vest stormed the Chinese consulate in the Pakistani city of Karachi, officials said. The attack was claimed by a separatist group which branded Beijing "an oppressor".

Pakistani authorities said that security forces had secured the area after the attack, the latest assault on Chinese nationals in the country, where Beijing has poured billions of dollars into one of the largest projects in its massive Belt and Road programme.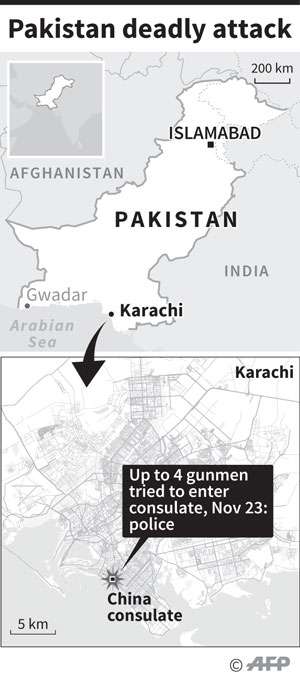 China "strongly condemned" the attack and asked Pakistan to take measures to ensure the safety of Chinese citizens and institutions in the country, as well as the China-Pakistan Economic Corridor (CPEC) mega-project.

Three gunmen tried to enter the consulate in the southern port city, but were intercepted by guards at a checkpoint, Karachi police chief Ameer Sheikh told AFP.

"They were carrying Kalashnikovs. First, they hurled a small (grenade) and then started firing," said a guard at a nearby house who witnessed the attack.

Police said two of their personnel were killed, along with a father and son from Quetta, the capital of Balochistan, who were seeking Chinese visas and were caught in the crossfire.

At least one of the attackers was wearing a suicide vest which did not detonate, another senior police official said. Islamabad accuses its eastern neighbour India of funding and arming Baloch separatists, and of targeting development projects in the province, particularly CPEC.Delhi, which has denied the claims, swiftly condemned Friday's attack.

KARACHI AFP
Nov23, 2018
---
Pakistan PM orders inquiry into attack
ISLAMABAD REUTERS, Nov 23 2018 - Pakistani Prime Minister Imran Khan on Friday ordered an inquiry into the attack on China's consulate in the coastal city of Karachi in which two policemen were killed. "Such incidents will never be able to undermine Pak-China relationship," the statement added.