---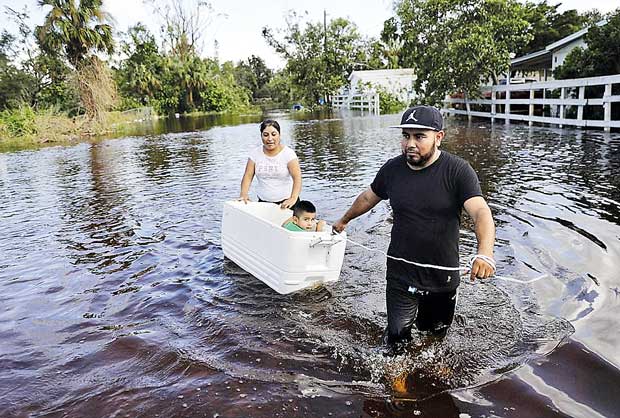 Hurricane Irma evacuees are returning to Florida to find their homes ripped apart and flooded by the devastating storm - and millions face a long road of recovery ahead.

Irma killed 12 in Florida, in addition to four in South Carolina and two in Georgia as it carved a path through the Unites States over the last week. At least 37 people in the Caribbean were killed by the storm.

More than 20,000 troops and five naval ships have descended on the region to help with relief efforts and carry out search-and-rescue missions.

While nearly all of Florida was engulfed by the 400-mile-wide (645-kilometer) storm, the Keys - home to about 70,000 people - appeared to be the hardest hit with 90 per cent of homes destroyed or damaged.

'I don't have a house. I don't have a job. I have nothing,' said Mercedes Lopez, 50, whose family fled north from the Florida Keys town of Marathon last Friday and rode out the storm at an Orlando hotel, only to learn their home was destroyed, along with the gasoline station where he worked. 'We came here, leaving everything at home, and we go back to nothing,' Lopez said.

President Donald Trump and First Lady Melania Trump are visiting Florida on Thursday to survey damage across the state. Glimpses of Irma's economic toll were emerging, with Florida saying 31 state agencies had already amassed nearly $250 million in preparation and recovery expenses.
DAILY MAIL, 13 September, 2017-