---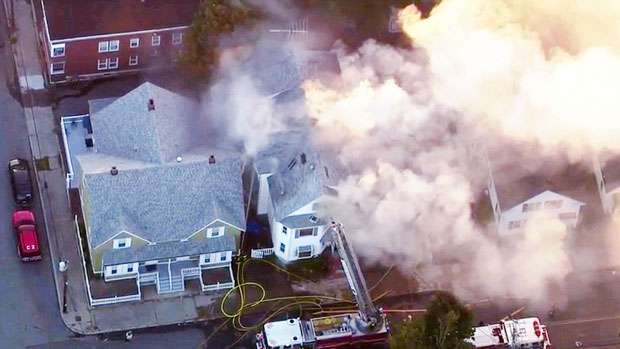 NEW YORK AFP Sept14, 2018- A teenager was killed and 12 others were injured after a problem in a gas line caused dozens of explosions and fires in the Boston suburbs.

Thousands of people were evacuated as up to 70 fires started burning in Lawrence, Andover and North Andover on Thursday afternoon because of a problem with the natural gas system.

Andover Fire Chief Michael Mansfield said it 'looked like Armageddon', with decimated homes and so much smoke you 'couldn't see the sky'.

Authorities said Leonel Rondon, 18, of Lawrence, died after a chimney toppled by an exploding house crashed into his car. He was rushed to a Boston hospital but pronounced dead there in the evening.

Firefighters from some 50 different fire departments have been working to douse the flames.

Ten people have been hurt, including one firefighter in Andover. Town officials said two civilians in Andover were also injured.

In Lawrence, at least four people were said to be undergoing treatment at Lawrence General Hospital as of Thursday night.