---
AFP, 15th FEBRUARY, 2017- The European Parliament backed a contested EU-Canada free trade deal on Wednesday, facing down protests by activists and Donald Trump-inspired calls for protectionism.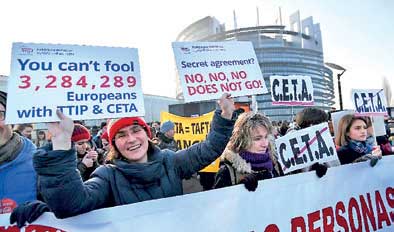 MEPs hailed the deal as a rare victory for an imperilled global trade system that is under threat from US President Trump who opposes far-reaching trade deals.

The accord, known as CETA, is tipped as Europe's most modern ever and a possible model for relations with Britain after its leaves the EU.

MEPs meeting in Strasbourg, France, solidly approved the pact with 408 votes in favour, 254 against and 33 abstentions. "This is a watershed moment - EU trade policy will never be the same again," said senior Scottish MEP David Martin, whose Socialists and Democrats group split on the issue.
Approval by the parliament allows the provisional implementation of the Comprehensive Economic and Trade Agreement as early as next month.

Protesters attempted to disrupt the vote, with about 700 people marching outside parliament to voice their opposition to the deal.