---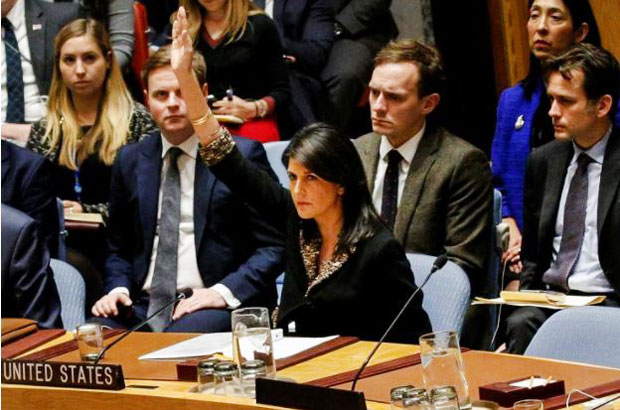 REUTERS, 22nd DECEMBER, 2017-More than 120 countries defied President Donald Trump on Thursday and voted in favor of a United Nations General Assembly resolution calling for the United States to drop its recent recognition of Jerusalem as Israel's capital.

Trump had threatened to cut off financial aid to countries that voted in favor. A total of 128 countries backed the resolution, which is non-binding, nine voted against and 35 abstained. Twenty-one countries did not cast a vote.

Trump's threat appeared to have some impact, with more countries abstaining and rejecting the resolution than usually associated with Palestinian-related resolutions.

Nevertheless, Washington found itself isolated as many of its Western and Arab allies voted for the measure. Some of those allies, like Egypt, Jordan and Iraq, are major recipients of U.S. military or economic aid, although the U.S. threat to cut aid did not single out any country.

A spokesman for Western-backed Palestinian President Mahmoud Abbas called the vote "a victory for Palestine." Israeli Prime Minister Benjamin Netanyahu rejected the vote.

Earlier this month, Trump reversed decades of U.S. policy by announcing the United States recognized Jerusalem - home to major Muslim, Jewish and Christian holy sites - as the capital of Israel and would move its embassy there.

"The United States will remember this day in which it was singled out for attack in the General Assembly for the very act of exercising our right as a sovereign nation," U.S. Ambassador to the United Nations Nikki Haley told the 193-member General Assembly ahead of Thursday's vote.