---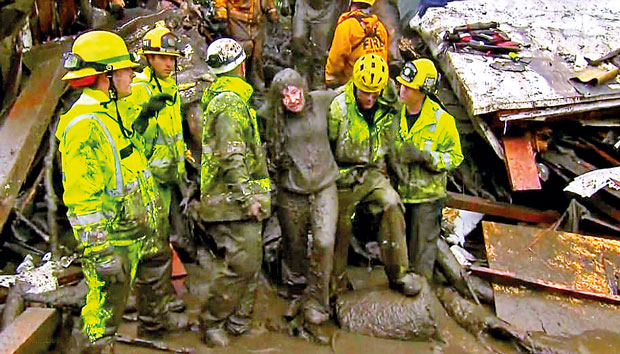 Emergency crews climbed and clawed through thick flows of mud and dangerous debris Wednesday in some of southern California's most exclusive neighborhoods, as the death toll from the collapse of rain-soaked hillsides rose to 17 people with more than a dozen others missing.

This neighborhood of gated homes and sloping streets just south of Santa Barbara has taken on the character of a Hollywood set, weeks after flames threatened the kind of destruction that mudslides have done in days. Wide swaths of ash and earth have smashed multimillion-dollar homes into pieces, filled hotel lobbies with muck, and blocked the main highway from Los Angeles for miles with mud several feet high.

But the human tragedy, which unfolded overnight Tuesday and continued Wednesday, far exceeded the emotional punch of the severe property damage. Whole families have been carried away by the mud. Rescued children who survived their parents remain in critical condition in a hospital whose staff is challenged by road closures and their own damaged property. At least 13 other people are missing.

As helicopters picked families off the roofs of their battered homes, community members branched out on their own in search of survivors and bodies, searching creek beds and canyons, runoff points at local beaches, and splintered piles of wood and stone that once were homes.

Churches became shelters for the thousands of evacuated people, who may have no place to live for months. Thousands of others are without water or power and may remain so for days.

By Max Ufberg, Mark Berman, Scott Wilson (c) 2018, The Washington Post ·Jan 11, 2018 - MONTECITO, Calif.-