---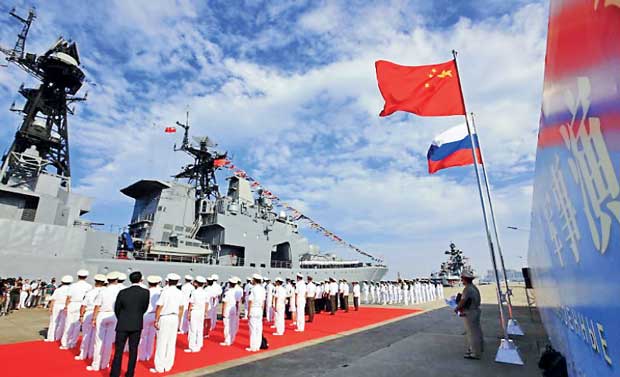 DAILY MAIL, 12th JULY, 2017- In a demonstration of the Chinese navy's expanding global reach, the country's latest-generation warships conducted live-firing drills in the Mediterranean Sea this week while en route to joint exercises with the Russian navy, the defence ministry said Wednesday.

The destroyer Hefei, frigate Yuncheng and support ship Luomahu took part in Monday's drills involving the ship's deck guns and small arms, the ministry said in a notice on its website.
"Maintaining a strict schedule of targeted exercises accomplishes transit, training and improvement en route, raising the flotilla's training levels and capabilities," it quote flotilla commander Liu Hui as saying.

The ships will next take part in the "Joint Sea 2017" exercises in waters off the Russian cities of St. Petersburg and Kaliningrad, part of growing cooperation between the countries' militaries. China's navy is the world's second-largest behind the U.S. and is increasingly operating in the Mediterranean, aided by the construction of a naval logistics base in the Horn of Africa nation of Djibouti.

Two naval ships departed Tuesday from the southern Chinese port of Zhanjiang with personnel to man the facility, China's first overseas military base.

While China says the base is needed to support peacekeeping, anti-piracy and other missions in the region, Beijing's rivalry with the U.S. is considered a key driving force behind the country's military expansion.

"The U.S. Navy is also more combat ready because it has been actively participating in joint drills and regional wars for decades," the official China Daily newspaper said in an editorial Wednesday.
"This means China has to work harder to become a major naval power that can better defend its territorial rights and sovereignty," it said.