---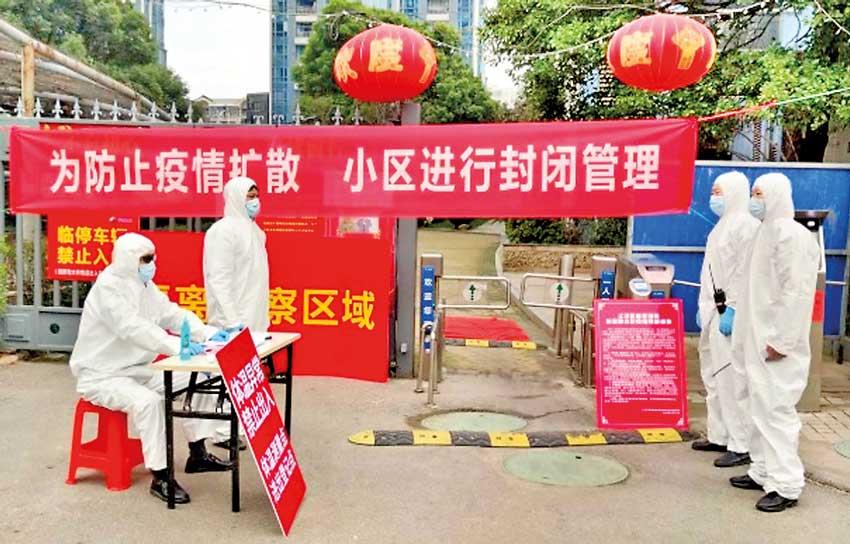 Workers in protective suits at an entrance to a residential compound in Wuhan
China's coronavirus outbreak showed no sign of peaking with health authorities on Friday reporting more than 5,000 new cases, while passengers on a cruise ship blocked from five countries due to virus fears finally disembarked in Cambodia.

News of the first death from the virus in Japan rattled Asian markets, already on edge after hopes that the epidemic was stabilizing appeared to be dashed by a sharp rise in the number of cases on Thursday.

In its latest update, China's National Health Commission said it had recorded 121 new deaths and 5,090 new coronavirus cases on the mainland on Feb. 13, taking the accumulated total infected to 63,851 people.

Some 55,748 people are currently undergoing treatment, while 1,380 people have died of the flu-like virus that emerged in Hubei province's capital, Wuhan, in December. The new figures give no indication the outbreak is nearing a peak, said Adam Kamradt-Scott, an infectious diseases expert at the Centre for International Security Studies at the University of Sydney.

The epidemic has given China's ruling Communist Party one of its sternest challenges in years, constrained the world's second-largest economy and triggered a purge of provincial bureaucrats.

Japan confirmed its first coronavirus death on Thursday - a woman in her 80s living in Kanagawa prefecture near Tokyo. The death was the third outside mainland China, after two others in Hong Kong and the Philippines.
BEIJING (Reuters),
14 Feb, 2020