---
China, fearing a rapid escalation of tension on the Korean peninsula, called on North Korea on Wednesday to stop its nuclear and missile tests and for South Korea and the United States to stop joint military drills and seek talks instead.

North Korea launc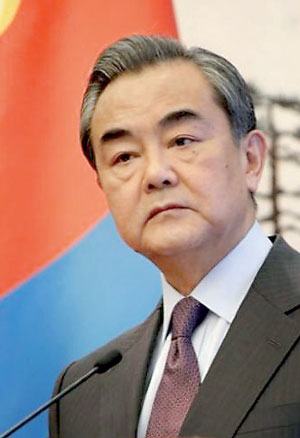 hed four ballistic missiles on Monday in response to the joint U.S.-South Korea military exercises, which it regards as preparation for war.

Chinese Foreign Minister Wang Yi said the tests by the North and the joint drills across the border in South Korea were causing tension to increase like two "accelerating trains coming toward each other". [L3N1GL1L4]

"China's suggestion is, as a first step, for North Korea to suspend nuclear and missile activities, and for the U.S. and South Korea to also suspend large-scale military drills," Wang said at his annual news conference on the sidelines of the meeting of China's parliament in Beijing.

Such a "dual suspension" would allow all sides to return to the negotiating table, Wang said.
North Korea fired the four missiles into the sea off Japan's northwest coast on Monday, angering South Korea and Japan with the latest in a series of ballistic missile and nuclear tests in defiance of the U.N. resolutions in recent months.

"Holding nuclear weapons won't bring security, using military force won't be a way out," Wang said. "There remains a chance of resuming talks, there is still hope for peace."

His comments came a day after the U.S. military started to deploy the first elements of its advanced Terminal High Altitude Area Defence(THAAD) anti-missile system to South Korea.

That deployment added to the complexity of the tensions between South Korea and China, which opposes the THAAD deployment that it says destroys the regional security balance.

Wang reiterated those concerns on Wednesday, describing its deployment as a mistake.

China says as part of its objection that the system's far-reaching radar can penetrate into its territory. In turn, South Korea and the United States have said the missile system is aimed only at defending against any North Korean missiles.
REUTERS