---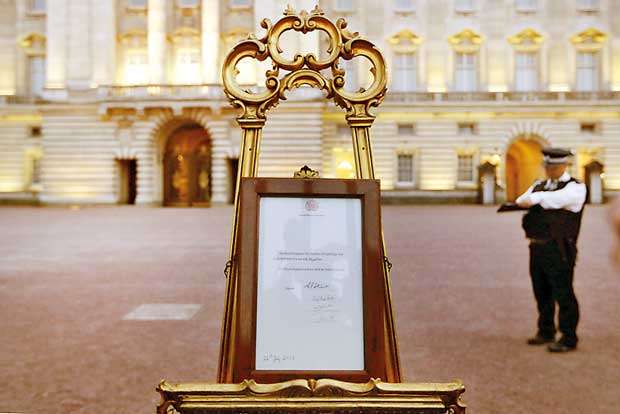 By Karla Adam, William Booth ·(c) 2018, The Washington Post · Apr 23, 2018 -
Catherine, Duchess of Cambridge, gave birth to a baby boy on Monday morning, touching off widespread jubilation - and a few yawns - across Britain. Her husband, Prince William, 35, was by her side for the birth of their third child.

"The baby weighed 8lbs 7oz," Kensington Palace announced in a tweet. "The Duke of Cambridge was present for the birth. Her Royal Highness and her child are both doing well."

According to tradition, news of the birth was later displayed on an easel in front of Buckingham Palace, but by then everyone knew the news.

The roadway in front of the maternity entrance at St. Mary's Hospital was lined with hundreds of reporters, speaking a babel of languages and doing stand-ups with cameras pointed at the Department of Obstetrics and Gynecology.

Prince George, 4, who was still wearing his school uniform, and Princess Charlotte, 2, came to meet their new sibling on Monday afternoon. Before walking in, Charlotte gave a royal wave to the cannonade of cameras.

As the Cambridges got into their waiting Land Rover, William told reporters that he was "very delighted, thank you."

The Washington Post's Jennifer Hassan in London contributed to this report.
-LONDON