---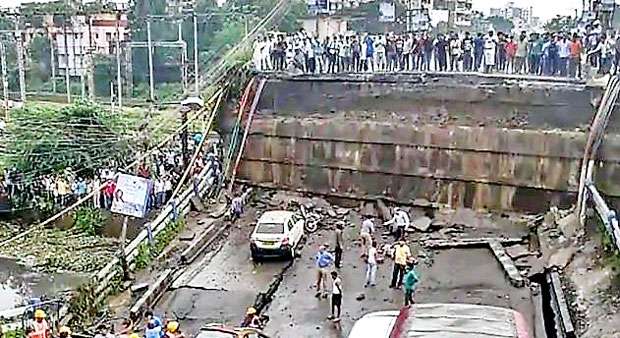 THE HINDU, 04th SEPTEMBER, 2018-A portion of the arterial Majerhat bridge in southern Kolkata has collapsed, trapping several people and crushing many vehicles.

As crowds gathered at the spot in congested Alipore locality, where mangled cars were buried under the debris of the bridge, Chief Minister Mamata Banerjee said the first priority is to rescue the injured and those who are trapped. The area has several under-construction buildings nearby. She also said the casualty figure may not be too high. Hospital sources have confirmed at least one death.

The Chief Minister is monitoring the situation from Darjeeling, where she has gone for an official meeting.

An eyewitness said some people in a minibus and private cars were trapped. Fire brigade, police and NDRF personnel are engaged in rescue work in the fading light.

The Majerhat bridge runs over the Majerhat Railway Station and connects the city centre to Behala and other southern suburbs. The incident took place at around 4.45 pm.