---
By Rodney Jefferson
(c) 2017, Bloomberg ··
Mar 13, 2017
Scottish First Minister Nicola Sturgeon said she'll start the legal process of preparing for a second independence referendum, threatening to open a new front in the Brexit battle as the British government prepares to
trigger negotiations.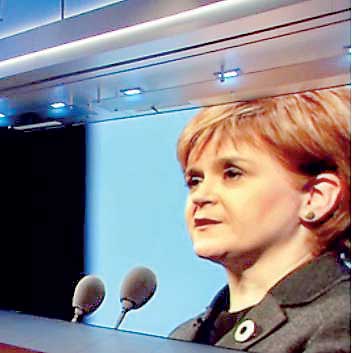 Scotland, which voted to remain in the European Union, "stands at a hugely important crossroads" as a result of the U.K. decision to leave the bloc, Sturgeon said. The Scottish government repeatedly sought compromise with Prime Minister Theresa May's government only to be "met with a brick wall of intransigence," Sturgeon told reporters
in Edinburgh.

As a result, Sturgeon said, she will seek the authority of the Scottish Parliament to agree with the U.K. government on a so-called Section 30 Order granting "the ability of Scotland to legislate for an independence referendum." The referendum would be held between the fall of 2018 and the spring of 2019, she said on Monday.

The Scottish unrest risks more constitutional upheaval just as May readies to trigger Article 50 of the Lisbon Treaty as soon as this week, further complicating the U.K. government's preparations for Brexit. May's government said the Scottish administration should get on with running Scotland instead of calling a new independence referendum.

"The evidence clearly shows that a majority of people in Scotland do not want a second independence referendum," the U.K. government said in a statement. "Another referendum would be divisive and cause huge economic uncertainty at the worst possible time."

The pound was 0.4 percent higher at $1.2216 on Monday. It initially pared gains as Sturgeon announced her plans, before rallying when she laid out her proposed timetable for the referendum because traders see it as far off.

Scotland's semi-autonomous government has been pushing to retain access to the EU's single market regardless of whether the rest of the U.K. abandons it.

It wouldn't be acceptable for the U.K. to "puncture Scotland's lifeboat" by preventing another referendum, Sturgeon said. Faced with the prospect of a so-called hard Brexit, "I'm doing what I think is right for the country and I'm planning to win."

The Scottish National Party, which runs the administration in Edinburgh, has been building momentum for another independence push since Scotland voted to remain in the EU in last June's referendum. With the U.K. government threatening a "hard Brexit cliff edge," Sturgeon said there are "massive implications for Scotland, for our economy, jobs, opportunities, public spending and living standards."

She and her Scottish National Party have said Scots are being ignored and the only way to fix the "democratic deficit" is to gain full independence. Recent polls have suggested a movement in favor of independence.

A survey published last week showed Scots were evenly split between going it alone and sticking with the status quo, while one in the Herald newspaper on Monday put support for remaining in the U.K. at 52 percent versus 48 percent for independence. In the first independence referendum, in September 2014, Scots voted 55 percent to 45 percent in favor of the union with England, Wales and Northern Ireland.

This week is crucial to the preparations, with May due to address the U.K. Parliament on Brexit on Tuesday and Sturgeon scheduled to address her party faithful at the SNP conference in Aberdeen this coming weekend. The Scottish government says it has the mandate to call another vote, though, like last time, it would need the approval of the U.K.

Eurasia said it's likely May will seek to delay, rather than block, any independence referendum until after Brexit is completed.

--With assistance from David Goodman and Tim Ross .