---
Daily Mail/18 January 2017-
Brazilian police were forced to fire rubber bullets at inmates after a brutal prison riot claimed 26 lives.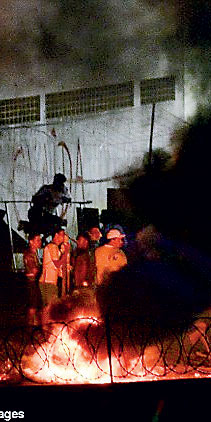 Violence erupted at Alcacuz jail near the city of Natal, in Brazil, leading to fires breaking out and serious injuries to inmates.

The army has been called in to help contain the riot which started on Saturday and some inmates have been arrested.

It is believed the jail was overcome after rival drugs gangs fought each other.

Cons climbed on the roof and set up barriers of furniture as the crews vowed to behead each other.
Police fired rubber bullets to try to keep rival factions apart, sending the inmates fleeing in panic and drawing screams from their relatives gathered outside the prison walls.

Two days later, crowds of inmates are still loose in the open air - between the prison blocks and the outer walls of the complex.

Television images have also shown inmates sharpening machetes.