---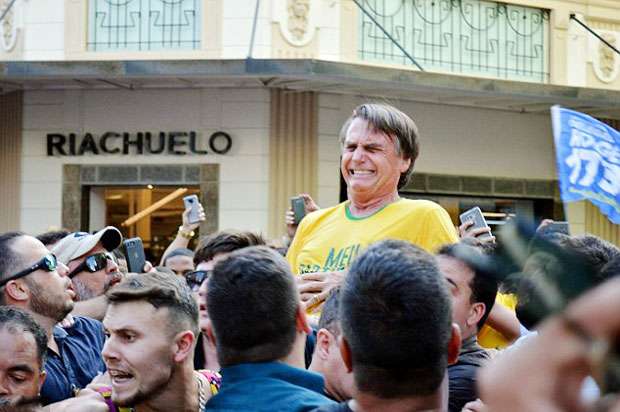 Brazil's right-wing presidential frontrunner Jair Bolsonaro was stabbed and seriously injured while campaigning with police saying the suspect claimed to be acting on orders from God.

It was the latest bizarre twist in a presidential race in which the most popular candidate, former president and leftist hero Luiz Inacio Lula da Silva, is trying to run from prison.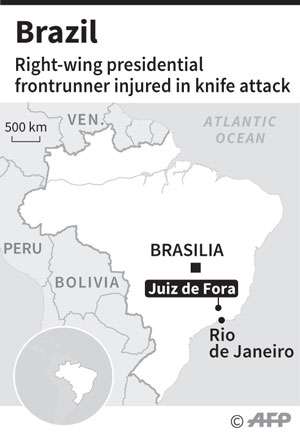 The Supreme Court disqualified Lula on Thursday. First round voting is scheduled for October 7.

Bolsonaro underwent surgery for multiple wounds his mid-section and was listed in stable condition after the attack during a walkabout in the southeastern city of Juiz de Fora.

Images shared on social media and Brazilian television showed Bolsonaro being carried on the shoulders of a throng of supporters before a man lunges at his stomach.

A witness told police the attacker held a knife wrapped up in a shirt and attacked Bolsonaro as the group hoisting him walked by.

The attacker was arrested right away. He was identified as Adelio Bispo de Oliveira, 40, and said to be a member of the left-leaning PSOL party from 2007 to 20014.

After his arrest, Bispo de Oliveira said he was "carrying out a divine mission, a mission from God," said Luis Boundens, head of a union of federal police officers.

Bolsonaro, a former military man and lawmaker, has been criticized for outbursts deemed racist, misogynist and homophobic.

Bispo de Oliveira acted "for religious reasons, for political reasons, and also because of the prejudice Bolsonaro has always shown when he talks about race, religion and even women," said his lawyer, Pedro Augusto Lima Possa.
RIO AFP JANEIRO, Sept7, 2018