---
Democrat Joe Biden told a raging President Donald Trump to "shut up" in an opening debate that turned almost immediately into a shouting match 35 days ahead of the most tense US election in recent memory.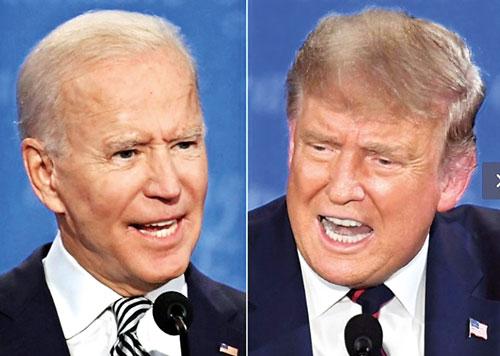 The debate in Cleveland, Ohio, was as bad-tempered as had been feared, with Trump leading the way in yelling over his challenger and the Fox News moderator Chris Wallace alike.

There was no handshake as the two men took the stage and while this was due to Covid-19 restrictions, the absence of the traditional greeting symbolized divisions through the country in the final countdown to November 3.
Trump went as hard on 77-year-old Biden as he'd threatened to do, saying the "radical left" had the centrist Democrat "wrapped around their little finger." And he got personal, seeking to rile the Democrat by accusing one of his sons of corruption, and telling Biden that "there's nothing smart" about the Democrat.

Biden, though, not only gave as good as he got -- he launched the kind of attack on Trump that the billionaire President has rarely had to endure to his face. "Liar," "racist" and "clown" were just some of the missiles launched from Biden, who also branded Trump the "puppy" of Russian President Vladimir Putin.
CLEVELAND AFP
Sept 30, 2020