---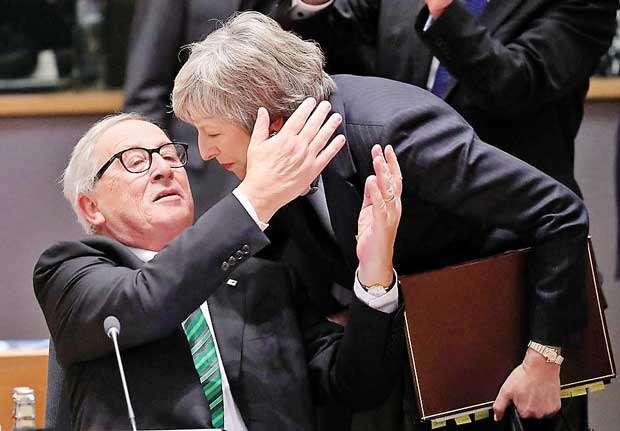 Brussels, (Daily Mail), 13 Dec 2018 -
EU leaders heaped praise on Theresa May today as they scrambled to shore her up in the wake of her narrow escape in a Tory no-confidence vote.

Counterparts including Angela Merkel and Holland's Mark Rutte held out an olive branch by speaking of their 'admiration' for the PM as they gathered for a summit in Brussels with Brexit high on the agenda.

In a glimmer of hope for Mrs May, draft conclusions emphasised that the Irish border backstop is an 'insurance policy' and only intended to be 'temporary' if it comes into force.

But EU leaders signalled a tough line by insisting that the legal text of the Withdrawal Agreement cannot be reopened - despite Mrs May urging concessions that can help her get the package 'over the line'.

As she arrived at the summit, Mrs May publicly conceded for the first time that the Brexit crisis will cut short her stay in Downing Street.Mrs May has acknowledged she must get 'legally binding' concessions from the bloc in the wake of the extraordinary Tory coup attempt yesterday which saw more than a third of her own MPs vote against her.

But Mrs Merkel today again flatly dismissed the prospect of renegotiating the Withdrawal Agreement, while the Finnish PM warned the best she can hope for is 'political' assurances.

Mrs Merkel said Mrs May's victory in the confidence vote was 'pleasing', but repeated that there is no prospect of changing the
Withdrawal Agreement.