---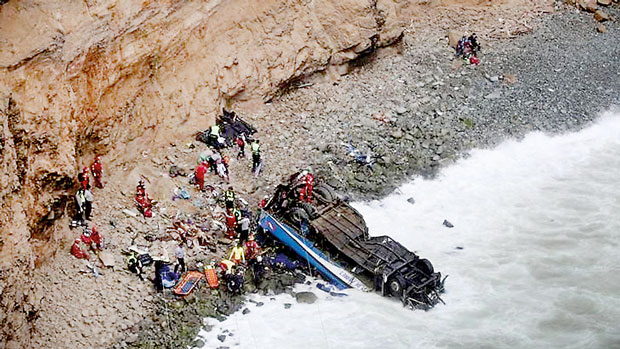 HINDUSTAN TIMES, 03rd JANUARY, 2018 - At least 48 people died when a bus tumbled down a cliff onto a rocky beach Tuesday along a narrow stretch of highway known as the "Devil's Curve," Peruvian police and fire officials said.

The bus carrying 57 people was headed to Peru's capital when it was struck by a tractor trailer shortly before noon and plunged down the slope, said Claudia Espinoza with Peru's voluntary firefighter brigade. The blue bus came to rest upside down on a strip of shore next to the Pacific, the lifeless bodies of passengers strewn among the rocks.

"It's very sad for us as a country to suffer an accident of this magnitude," Peruvian President Pedro Pablo Kuczynski said in a statement.

Rescuers had to struggle to rescue survivors and recover the dead from the hard-to-reach area in Pasamayo, about 70 kilometres (43 miles) north of Lima.