---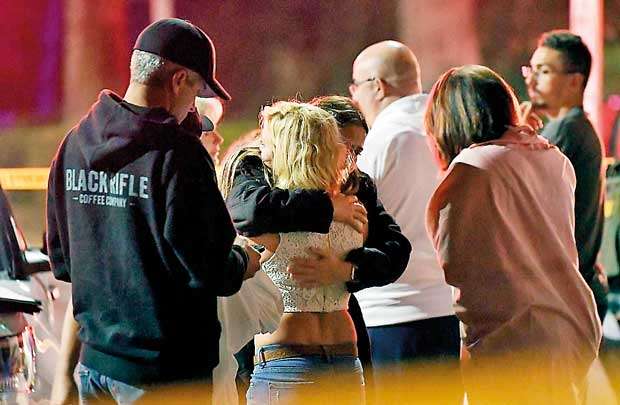 Gunman kills twelve after storming 'student night'
California, (Daily Mail), 8 Nov 2018-Twelve people have been killed at a country music bar in southern California after a masked gunman wearing all black opened fire on crowds of college kids before taking his own life with a semi-automatic handgun.

The shooter, who has not been named publicly but has been identified by police, stormed Borderline Bar and Grill in Thousand Oaks on Wednesday at 11.20pm. He first shot the bouncer then opened fire on the crowds of youngsters who were there to enjoy a night of line dancing and country music.

As dozens ran for their lives and used bar stools to shatter the windows to escape, the shooter continued firing his black semi-automatic pistol and throwing smoke grenades to confuse them.

When the first police officers arrived at the scene three minutes later, the gunman shot one of them multiple times before shooting himself. By the time SWAT teams arrived, he was dead. The sheriff's sergeant who was shot later died in hospital. He was Ron Helus, a 29-year veteran.

In total, 13 are dead; 11 people inside the bar, the sheriff's sergeant and the gunman. According to KTLA, the gunman was 29 years old. Police are yet to identify his motive or release his name.

An additional '10 to 15' victims were injured during the mass shooting, including the bouncer, a young female cashier and college students.
The gunman shot himself before SWAT teams got inside.