---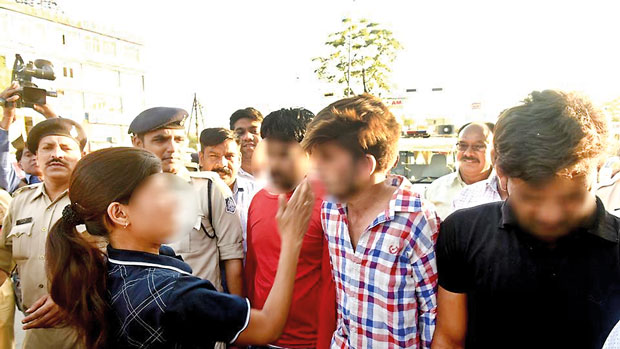 Bhopal, (Hindustan Times), 26 March 2018 -Police arrested four men accused of raping a woman and paraded them through Bhopal's streets on Sunday afternoon. Some people watching the four being marched through the streets slapped them, a practice that is increasingly being reported from across Madhya Pradesh following chief minister Shivraj Singh Chouhan's recent call to the police to crack down on crimes against women.

The woman was allegedly raped by her former boyfriend and another person on Saturday. The men had help from two accomplices, said police.

Bhopal (south) superintendent of police (South) Rahul Lodha said all four accused were booked for gang-rape and abduction, among other charges.

The woman said she was forced to go with him (her former boyfriend) to his friends house, where three of his friends who were there. Two raped her while the others stood guard
The woman escaped from their clutches and lodged a complaint with the police on Sunday morning, Lodha added.