---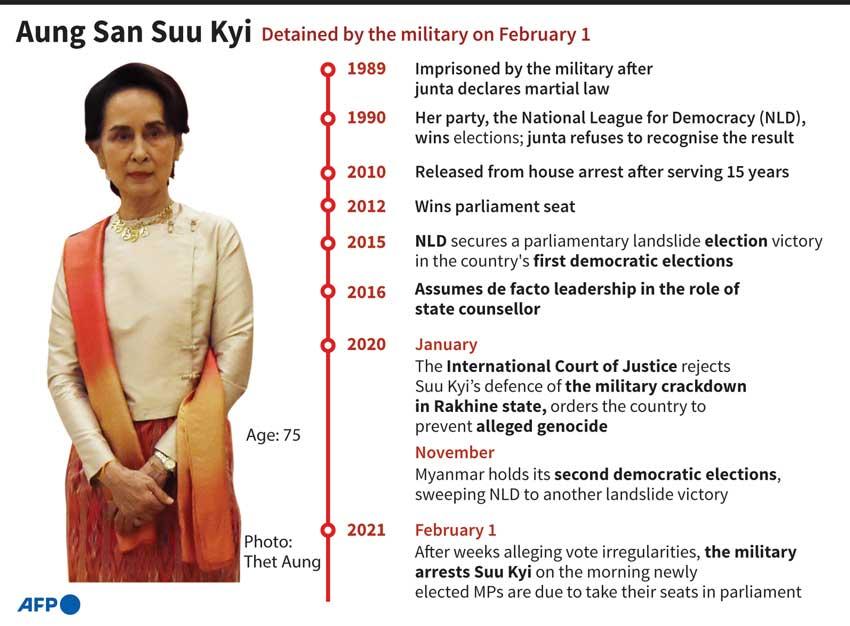 Myanmar's military on Monday pledged the country would hold fresh elections in one year, shortly after arresting de facto leader Aung San Suu Kyi and seizing power in a coup.

Speaking via the military-owned broadcaster Myawaddy, military representatives said the army would uphold "discipline-flourishing democracy" and allow the winner of the election to
take power.

The army has declared a year-long state of emergency and appointed former general Myint Swe as acting president, who has handed control to commander-in-chief Min Aung Hlaing.
Suu Kyi and numerous other government officials, along with prominent activists, were detained in pre-dawn raids across the country on Monday morning.

In a statement issued by her National League for Democracy (NLD) party after she was detained, Suu Kyi urged the people of Myanmar to resist the military.

"The public is urged to fully oppose the military coup and resoundingly resist against it," she said. Shortly after the dawn raids, internet and phone lines went down as soldiers appeared on the streets in major cities. Communication channels have since been restored.

Army trucks were parked in front of City Hall in Yangon and troops were seen in the country's capital, Naypyitaw.

The country had been gripped by fears of a coup for days amid escalating tensions between the military and the NLD, with the army refusing to rule out taking over and suggesting it could revoke the constitution.

Regional ministers were also among those detained, Wai Wai Nu, an activist from Myanmar's Rohingya minority, said on Twitter.

The raids came just hours before a newly elected parliament was due to convene in Naypyitaw. The military had called for a postponement of the new term after claiming to have uncovered potential widespread voter fraud during the general election in November, though they did not provide any direct evidence.

Suu Kyi rejected the call for a delay and other requests during a high-level meeting with the military last week, according to The Irrawaddy news website, which quoted an unnamed source.
DPA, 01ST
FEBRUARY, 2021