---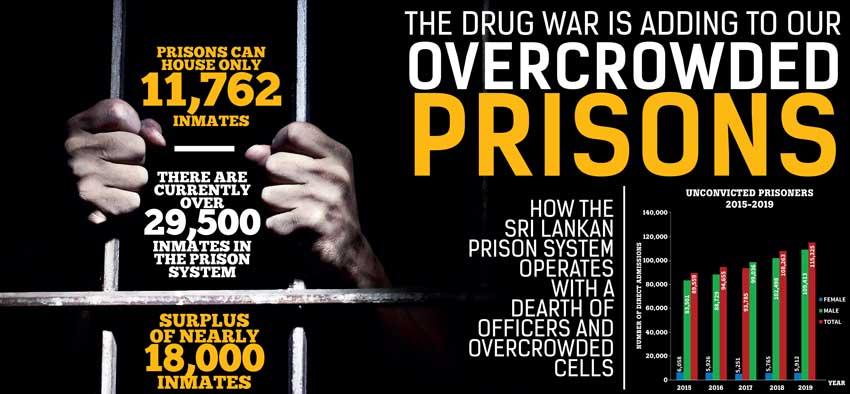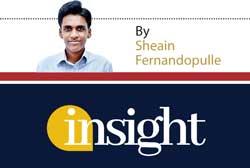 With several prison staff members accused of supporting inmates to obtain drugs, prisons and prisons officials have been in the spotlight in the recent past. Incidents where inmates have used different tactics to have narcotics delivered into the prisons, garnered attention, especially when authorities foiled an attempt to smuggle drugs through a cat at the Welikada prison. Against this backdrop, it is fitting to analyse as to what remedies the Prisons Department has taken to contain distribution of drugs within prisons in order to ensure that prisons are rid of illegal activities. The Daily Mirror attempted to examine the current status of prisons as well as the measures that need to be taken to address the numerous issues reported in prisons.
STF security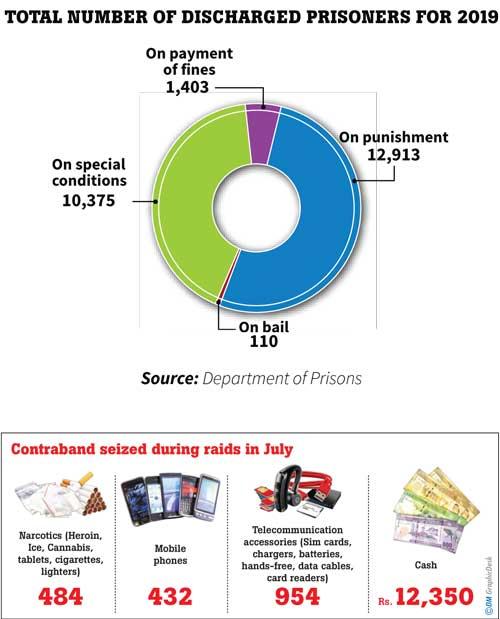 With increased scrutiny over illegal activities taking place in and around prisons, Police Special Task Force (STF) personnel have been deployed at the entrance of prisons in the Colombo city since last week. "This is to beef up external security at prisons in and around Colombo and also to get their support when search operations are carried out in prisons," Prisons Commissioner and spokesman Chandana Ekanayake said. He said the Ministry of Defence has agreed to provide security upon a request made by the Prisons Department to the ministry over the issue. "Accordingly, security was provided for three prisons within the Colombo city," he added.

Ekanayake added that a number of incidents were reported where contraband such as phones were thrown into prisons over its walls in recent times. Special security measures therefore were needed for several prisons in order to discourage and prevent similar occurrences.

While STF security has already been provided for the Angunukolapelassa and Boossa prisons,Defence Secretary Major General (Retd) Kamal Gunaratne said the decision to deploy STF was taken to thwart illegal activities, smuggling drugs and using mobile phones to operate crimes from prison cells.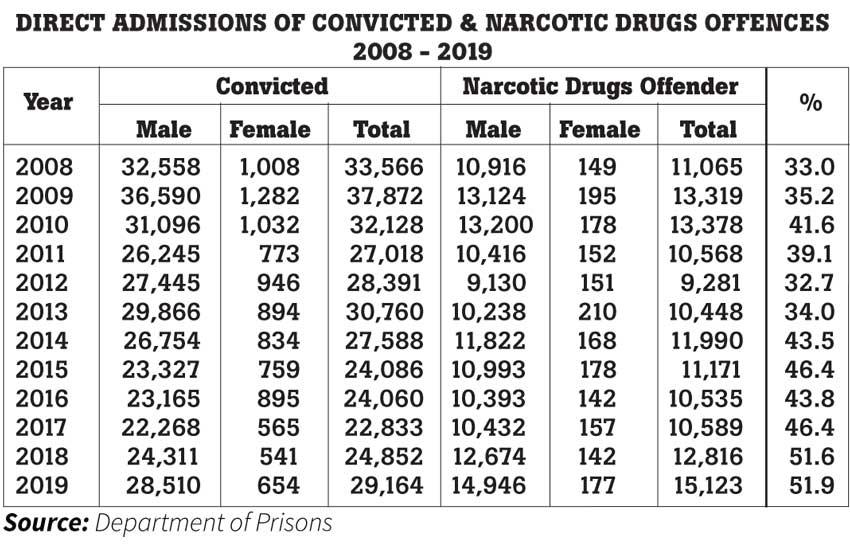 CCTV cameras for three prisons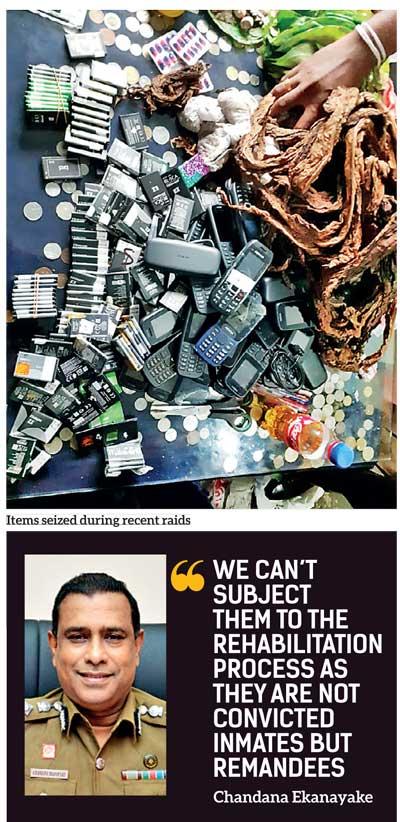 According to the Prisons Department, measures are underway to install CCTV cameras in Colombo's three main prisons; the Remand, Magazine and Welikada. "This will ensure the safety of prisons and thwart violence and criminal activities which take place inside prisons," Ekanayake said. He said CCTV cameras are already in place at the Agunukolapelessa and Boossa prisons. "Therefore, we have been able to minimise illegal substances being brought into prisons, to some degree," Ekanayake added.

inmates commit suicide
Commissioner General of Prisons Thushara Upuldeniya revealed recently that three drug-addict inmates committed suicide within the last week since the crackdown on narcotics by the authorities. The inmates who had zero access to drugs had taken the unfortunate decision to end their lives.

According to Prison sources, two have committed suicide within the Colombo Remand Prison among whom one was addicted to illicit liquor while another was known to abuse drugs. Another prisoner who was suffering from liver disease, meanwhile committed suicide at the Negombo Prison. He too has been reportedly addicted to illicit liquor and heroin.

Although prison authorities have been able to seize individuals and groups who transport drugs into prisons in the recent past, search operations continue within the prison premises.

Ekanayake said the inmates, who were severely addicted to drugs and liquor are currently in a terrible condition as they were not receiving any kind of narcotics. When asked as to what measures will be taken to prevent suicides, he said what could be done was to let those experiencing drug and alcohol withdrawal symptoms, absorb the feeling that they could survive sans drugs and liquor. He noted that officials are unable to direct these individuals towards rehabilitation during this uncomfortable and often life-threatening process, due to limitations in the current system.

"We can't subject them to the rehabilitation process as they are not convicted inmates but remandees," Ekanayake said. "It is only the convicted inmates who undergo the rehabilitation process," Ekanayake added. Moreover, he said they had taken measures to curb all possible ways from which the inmates received drugs and other illegal substances from outside.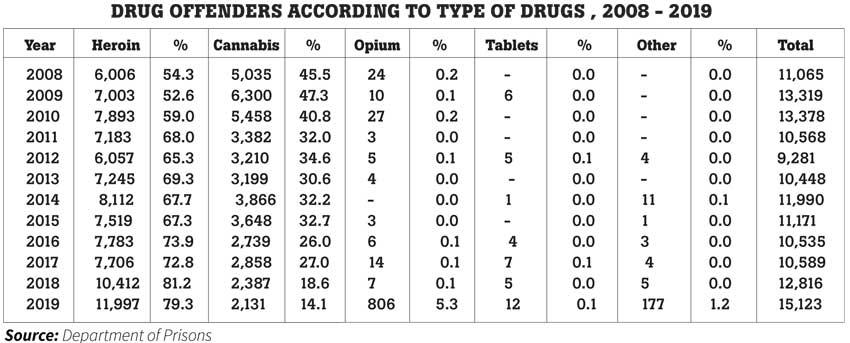 Congestion on the rise
Congestion in prisons has drastically increased over the last two months with a substantial number of persons being remanded over narcotics related activities. According to the Commissioner General of Prisons, over 6000 persons have been sent to prisons during these two months, resulting in severe congestion in prisons.

According to officials, prisons can house only 11,762 inmates but there are currently over 29,500 inmates in the prison system, the Commissioner General pointed out. He also highlighted that the Prison Department was confronted with a dearth of prison officials.

"We have prepared a five-year plan in order to address the issues of congestion in prisons and lack of officials. We hope to present it to the relevant authorities by next week," the Commissioner General said.

"As for the congestion in Prisons, authorities have decided to introduce an alternative rehabilitation system for drug addict inmates through which they would be housed separately," he added. Meanwhile, according to the statistics of the Prisons Department, the total number of convicted and prisoners who are yet to be convicted admitted in 2019 was at 29,164.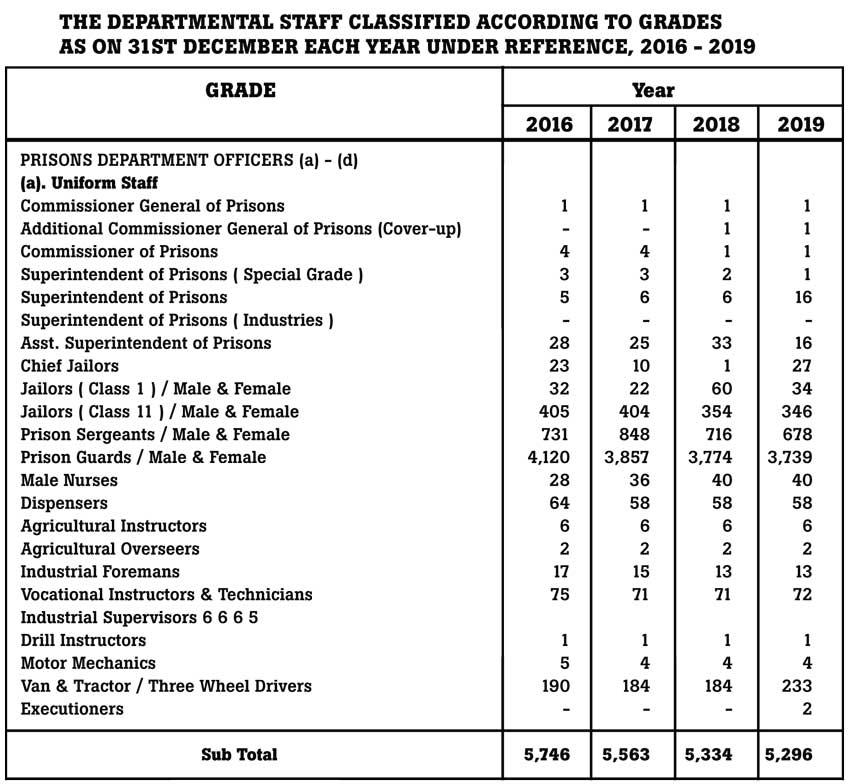 prisoners released to ease congestion
Considering the congestion in prisons which has drastically increased over the last two months with a substantial number of persons being remanded over narcotics related activities, presidential pardons were granted to 444 prisoners in 28 prisons on Tuesday.

The Prisons Department said out of the total released inmates, 426 were male prisoners while 18 were female prisoners. The highest number of prisoners (83) has been released from Welikada of which 79 are males and 04 are females.

Inmates from Magazine, Colombo Remand, Ambepussa, Anuradhpura, Badulla, Batticaloa, Bogambara, Boossa, Pallansena, Galle, Jaffna, Kadurugas Ara, Kalutara, Kuruwita, Mahara, Matara, Moneragala, Negombo, Pallakelle, Polonnaruwa, Thaldena, Agunukolapelessa, Trincomalee, Wariyapola, Vavuniya, Wataraka and Weerawila were released accordingly.

Over 1,200 Mobile phones recovered
Over 1,200 mobile phones have been recovered from a number of prisons around the country over the past months, during raids carried out in 28 prisons. Among the phones recovered were mobile phones found in the prison cells of notorious drug dealers including 'Kanjipani Imran' in Boosa. Most of the mobile phones had been recovered from the Negombo prison.

Intelligence officers play a pivotal role in carrying these raids in prisons. Authorities expect a considerable disruption of illicit activities carried out from prisons through these mobile phones over the past few years.
Help us improve our content. We'd love to hear your thoughts and suggestions.
Write to us at [email protected]