---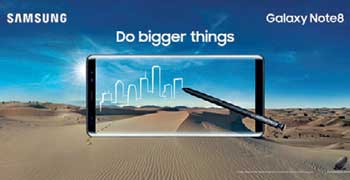 The Samsung Galaxy Note 8 (64GB), the latest model in the Samsung Galaxy Note series, is now available for pre-order on wOw.lk.

The Note 8 builds upon the winning formula of its predecessors, successfully living up to its tagline 'Do bigger things', and features a borderless infinity display, the productivity-boosting S Pen and dual camera technology.

The smartphone's key features includeits Infinity 6.3" Super Amoled display, Dual 12MP camera, water and dust resistance, Octa-core processor, 3300mAh Battery, 6GB RAM, iris scanner, and finger print unlock function, among many others. It's also available in two colours - Midnight Black and Orchid Grey.

wOw.lk is the country's leading e-commerce platform that brings the latest products to Sri Lanka's consumers at the best prices along with the convenience of delivery. The launch of the Samsung Galaxy Note 8 is yet another successful example of wOw.lk's commitment to staying in the forefront of the e-commerce industry.

Pre-order your Samsung Galaxy Note 8 (64GB) with a freewireless charger for Rs.149,725 along with 0 percent instalments schemes and 1-year authorized agent warranty, only from www.wOw.lk