---
Thushan Gunawardena was recently appointed as the Country Manager of the Ayonix Corporation of Japan in Sri Lanka, which specializes in developing advanced 3D face recognition software that can be used in
multiple industries.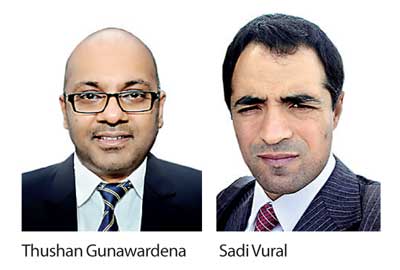 With Gunewardena's appointment, the Ayonix Corporation has marked its entry into the Sri Lankan market and will now focus on providing local customers with access to its world-class range of face
recognition products.
Gunewardena has been working in the airline and travel industry for the last 14 years and most recently worked in the field of insurance as a divisional head for the largest general insurer in the world, AIG. Gunawardena holds a MBA from Cardiff Metropolitan University UK and boasts of a wealth of experience in the field of digital marketing, consumer insurance. In his new role, will be involved in representing Ayonix in the Sri Lankan market and will work closely with major system integrators across the island.
The state-of-the-art face recognition technology and software products developed by the Ayonix Corporation of Japan offers a comprehensive range of government, medical, retail, marketing, public safety and mobile face recognition solutions. The most accurate and fastest face recognition software can be used to provide real-time surveillance and can even be used to help employees at retail outlets to identify a customer by name and target sales and advertisements that are in line customer's
specific preferences.
Commenting on the Ayonix Corporation's entry into Sri Lanka, Dr. Sadi Vural, the President of the Ayonix Corporation of Japan, (who is also a co-founder of the company and a pioneer in image analysis and pattern theory) stated, "Ayonix has developed a strong reputation for delivering excellence in face recognition technology. We are pleased to expand our global reach and enter into the Sri Lankan market, which we have identified as a market with immense potential. Sri Lanka is also well on track towards becoming a thriving megopolis and economic hub. The many real estate projects, facilities, highways and other infrastructure projects that are in the pipeline, will require the deployment of high quality technology, and we hope that the Ayonix Corporation will be able to supply these best-in-class solutions and support the
country's development."
Commenting on his appointment and the Ayonix Corporation's entrance into the Sri Lankan market, Thushan Gunawardena, Country Manager of the Ayonix Corporation of Japan in Sri Lanka stated, "Ayonix has rapidly evolved into becoming a worldwide provider of comprehensive face recognition solutions and we will continue to focus on developing and delivering innovative software in this particular field of biometrics. We hope that our Sri Lankan customers will be able to benefit immensely from our solutions, which are currently being used by governments and leading conglomerates around the world."
The Ayonix Corporation was officially founded in March 2007 by four Japanese entrepreneurs who recognized the need for solutions in the rapidly growing field
of biometrics.