---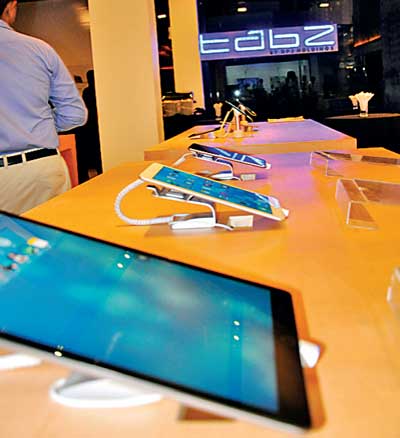 tabZ by DPJ Holdings, one of the authorized Apple resellers in Colombo, re-launched its store in Liberty Plaza recently, making it the largest Apple store in
Sri Lanka.

The all-new tabZ store located on the 1st floor of Liberty Plaza, Colombo will now offer the full range of Apple products inclusive of the entire Phones, iPads, MacBooks , iMacs and Apple TV range, along with all the accessories that you will need to compliment your purchase.
The country's largest Apple store is now fully-equipped to cater to its loyal Apple fans with un-parallel customer service through their well-trained and friendly in-store staff who are committed to offer both before and after-sales technical support.
With the achievement of the Apple authorized Enterprise Reseller status, tabZ now has a dedicated corporate team that operates separately to serve all their corporate clients offering personalized services to all the clients they serve. tabZ is also located on the lower ground floor of Unity Plaza and in addition to this, showrooms out of Colombo are also envisaged, especially in key cities such as Jaffna, Galle and Kandy.
All Apple products at tabZ are TRCSL approved and sold with a genuine Apple warranty. tabZ also guarantees the best price across its product range, extending the affordability of Apple merchandises to a greater share of the middle and lower middle class individuals of our country. Explaining his vision for Apple in Sri Lanka, Dr. Prasantha Jayamanna, the outspoken Chairman/CEO of DPJ Holdings, the holding company for tabZ said, "Apple products no longer cater only to high profile CEOs and top management executives. It is now an affordable device that a middle class family could use and experience the productivity and day-to-day ease it brings to our lives. From effectively managing your work, to sharing information with your friends, to using it as a source of entertainment, Apple is now a lifestyle brand that you can use from the start of your day to
its end."

"Technology such as this releases barriers and expands our horizons. Using brands such as Apple allows people to see things from a different perspective and innovate. We firmly believe that the time is right for Apple in Sri Lanka. Prices are coming down and people's disposable income is quite high. Along with this, we will introduce many novel repayment schemes to make Apple a brand that everyone can afford," he further elaborated.
The increased affordability of Apple in Sri Lanka is also expected to bring about several opportunities for Sri Lankans to develop and prosper. For instance, local musicians can use iTunes to sell their music, local developers can create apps which are introduced to the App Store while budding film makers can refine their talents using video editing apps. All that is required is the right technology, the right back-end support and a little bit of hype on the
limitless possibilities.