---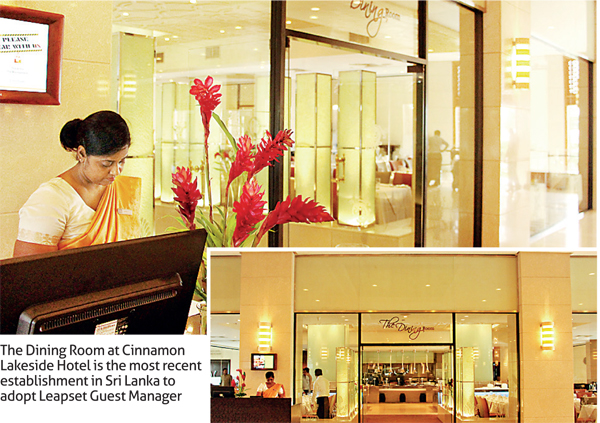 Leapset Guest Manager, the latest addition to its ever evolving platform of tech solutions, tackles one of the most serious problems facing restaurants - wait-list management.
Restaurants lose a significant amount of their potential revenue due to customers walking away instead of waiting. Guest Manager addresses this issue through an elegant solution that works through SMS or its mobile application and allows consumers to get on the waitlist without having to be at or even near the restaurant.
The solution itself is originally the brainchild of New York-based startup BuzzTable. BuzzTable developed a simple waitlist management solution that could work off any tablet device and caught the attention of Leapset's parent company Sysco. The solution was acquired, integrated into the Leapset platform and developed into a complete Guest Management solution for restaurants.
"Part of developing the complete ROS (Restaurant Operating System) is ensuring you have solutions that enhance the customer-restaurant relationship at every touch point," said Leapset MD Sri Lanka and SVP Engineering Shanil Fernando.
"From the moment the customer begins to look for a place to eat, all the way to retaining the customer after they've finished their meal, a true holistic ROS improves every step of the process and that's what Leapset is. Guest Manager's role is at the front of the restaurant, it handles the waitlist and reservations smoother and more elegantly than ever before."
Guest Manger's function isn't limited to generating more business and increasing retention for the merchant, it also assists in managing the restaurant floor. The app uses real-time data to recommend seating for each party, so as soon as a party arrives they waste no time waiting to be seated. Guests can even add themselves to the waitlist before they arrive at a restaurant and check their position on the wait list in real time using the mobile application.
To date Leapset has over 4,000 restaurants signed up to Guest Manager while also boasting 135,837 consumer app sign-ups. In total guest manager has generated over 4.2 million seats at the restaurants using it. In fact 350,000 guests are seated every month through Guest Manager across the United States of America.
Several restaurant chains have also signed up for Guest Manager such as Pappas Restaurants, Lucky Strike, Briad Group and Famous Dave's to name a few.
Guest Manager also launched in Sri Lanka on November 17, 2014 by signing up with Cinnamon Grand's speciality seafood restaurant Lagoon and more recently have just signed up with The Dining Room at Cinnamon Lakeside.
"The engineering team was ecstatic about the Lagoon and Cinnamon Lakeside sign-ups," explained Shanil.
"Even though the product is engineered here in Colombo, it's primarily targeted at the huge US restaurant market so we never get to use the product ourselves outside of our test environments. So though the Sri Lankan market is very small from a business perspective, it really meant a lot to us in terms of pride and satisfaction to have the product here in Colombo, the place where we make it."
Leapset develops an end-to-end technology platform for the US restaurant industry and is strategically aligned with Sysco Corporation (NYSE: SYY). Leapset is headquartered in Redwood City, California while its Engineering and Operations centers are based in Colombo, Sri Lanka.
---
---
Add comment

Comments will be edited (grammar, spelling and slang) and authorized at the discretion of Daily Mirror online. The website also has the right not to publish selected comments.

---