---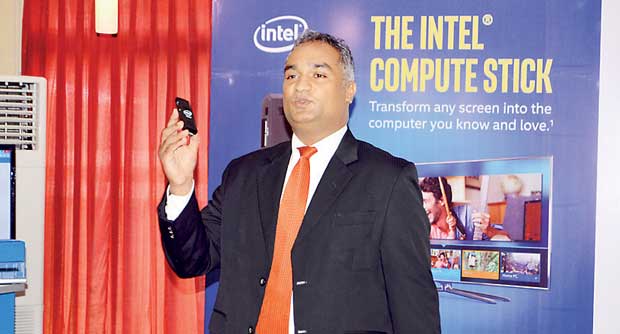 Intel EM Limited Sri Lanka Liaison Office Country Business Manager Indika de Zoysa


The Intel Compute Stick, a new pocket-sized computer based on a quad-core Intel AtomTM processor, is now available in Sri Lanka for local users. The Intel Compute Stick can transform any HDMI display such as TV in the house into an entry computer capable of working with productivity apps, playing local or streamed content, driving basic digital signage or enabling thin clients.

The Compute Stick comes as two versions. The Windows version (STCK1A32WFC which comes with Windows 8.1 or Windows 10) includes two GB memory, 32 GB of on-board storage and comes with McAfee Antivirus Plus for comprehensive protection from Trojans, viruses, spyware and more. The Ubuntu version (STCK1A8LFC) has one GB memory and eight GB of on-board storage. Both devices come with Wi-Fi and Bluetooth* for connectivity, a USB port to connect peripherals and a micro SD card slot for additional storage. Both these versions are powered by Intel AtomTM processor.

Intel EM Limited Sri Lanka Liaison Office Country Business Manager Indika de Zoysa said, "If you are looking to bring computing to new places, the Intel Compute Stick is the perfect tool you want to have with you. It transforms any HDMI* TV or monitor into a full computer, allowing you to search the web, share your vacation photos, keep up on your email or do any of the tasks that you do on your computer today. All you need is a wireless keyboard and mouse and you're set."

Unlike "casting devices" that require a companion device such as a smartphone, tablet or PC to deliver the content to be displayed, the Intel Compute Stick is a computer with a full operating system. So in addition to home entertainment applications, the Intel Compute Stick can be used as an education system, a basic thin client, or in kiosks, point of sale devices or other lightly embedded applications.

The innovative design of the Intel Compute Stick is fully optimized to allow users to maximize the performance of the quad-core Intel Atom processor for games, videos, spreadsheets, or presentations. As systems and files can be saved in the compute stick, users can enjoy the freedom of working at anywhere either at home or in office.

"We are currently seeing a huge excitement in both consumer and business categories to experience compelling new form factors such as mini PCs and desktop all-in-ones (AIOs) as Intel is helping to deliver new capabilities that consumers and businesses want. The Intel Compute Stick is an innovative form factor for a fully functional desktop computer that's ready-to-go out-of-the-box. It's everything you love about your desktop computer in a device that fits in the palm of your hand."

The Intel Compute Stick will support Wireless 802.11 b/g/n, a micro SD card for expandable memory, mini-USB power supply and Bluetooth* 4.0 for keyboard and mouse. Consumers can now buy this innovative device in Sri Lanka.
---
---
Add comment

Comments will be edited (grammar, spelling and slang) and authorized at the discretion of Daily Mirror online. The website also has the right not to publish selected comments.

---