---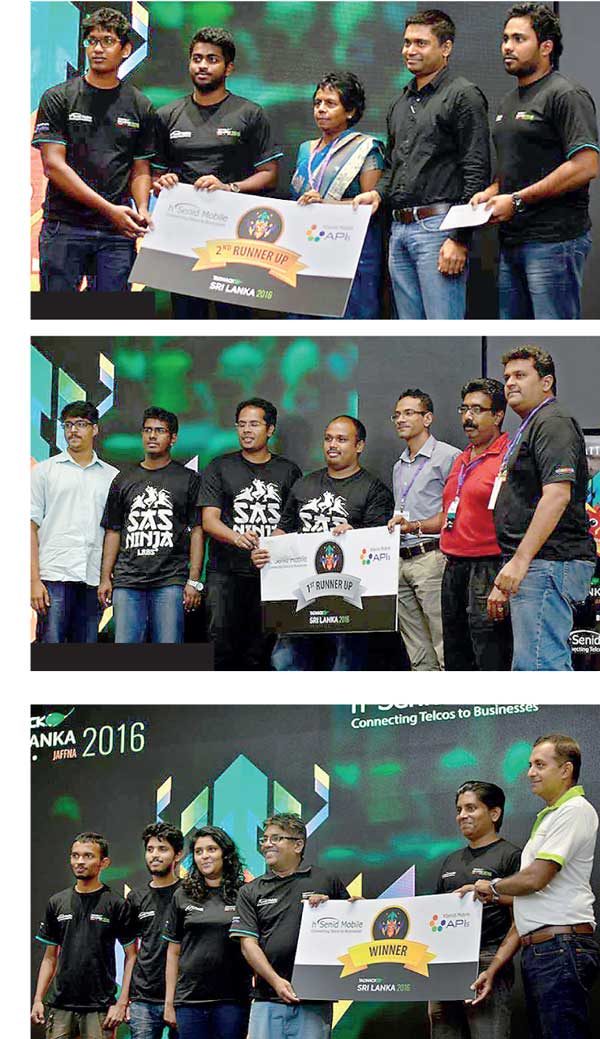 TADHack, the world's largest telco application development hackathon and the only meeting place for telco application developers to share, learn, code and innovate was successfully concluded across 30 different countries recently.

This international event was conducted simultaneously on a single weekend, connecting Telco developers, partners and sponsors via the Internet. hSenid Mobile Solutions, the local sponsor of TADHack hosted the event in Sri Lanka for the third consecutive time in two satellite locations- Colombo and Jaffna.

Sri Lanka, with the largest telco application developer community had a staggering number of over 500 registrants for this year's TADHack. The two Lankan events had a total of 17 teams with each team showcasing new ideas and innovations to the world's stage.

Three winners with significantly innovative ideas were declared winners for using hSenid Mobile's API platform powered by Dialog Ideamart. Team Shilpa64 won first place with an education management system, SAS Ninja won second place for their wearable device named iWrap, and Team APEX came third with a customer response monitoring system.
Walking School by Shilpa64
The app by Shilpa64 is an IoT integrated local language telco education platform that addresses the access to education especially in underprivileged communities where a user can access the national curriculum and vocational training content on a mobile device. The user can also take relevant tests, obtain performance analytics and advice on student capabilities and improvement.
Team Shilpa64 comprises Niranjan Meegammana, Aadeptha Samarakoon, Poornima Meegammana. Vishwa Kumara and Devanjith De Silva. The solution was developed using hSenid Mobile's SMS, USSD and CAAS APIs. The team won the local prize of UD$ 1000 for marking their win at TADHack Sri Lanka 2016.
iWrap by SAS Ninjas
Statistics from the Ministry of Transportation and Civil Aviation indicate that one in 25 adult drivers are prone to falling asleep at the wheel, causing 72,000 vehicle accidents, 44,000 injuries and 800 deaths in the year 2013. To counter this situation, this smart optic wearable device, iWrap will alert the driver if it detects behavioral drowsiness as a precaution against accidents.
The iWrap functions on a simple Bluetooth module, which is connected to the driver's mobile phone that will be triggered from the optic wearable. The module is modified with custom AT commands on functionality requirements.
Team SAS Ninjas comprises Thuan Shafer Preena, Ramindu Rusara Senarath, Supun Harsha Priyadarshana, Tharindu Kanchana Senanayake and Aqeel Hashim Mufthy.

Raven by Team APEX
Raven is a rea-time customer response monitoring system built for the hospitality and hotel industry. The app allows these establishments to record facial recognition to monitor customer feedback by capturing live customer reactions and monitoring their facial expressions through hotel cameras at various locations within the hotel premises and alerts the hotel management accordingly. By using hSenid Mobile's SMS API, the app is able to send a photo of the customer's face to alert the hotel of their approval or disapproval of the in-house services.
Team APEX comprised Lahiru Jayathilake, Manujith Pallewatte, Yasith Jayawardana and Vikum Bandara who are planning to implement the application as a product that can be deployed in the industry soon.