---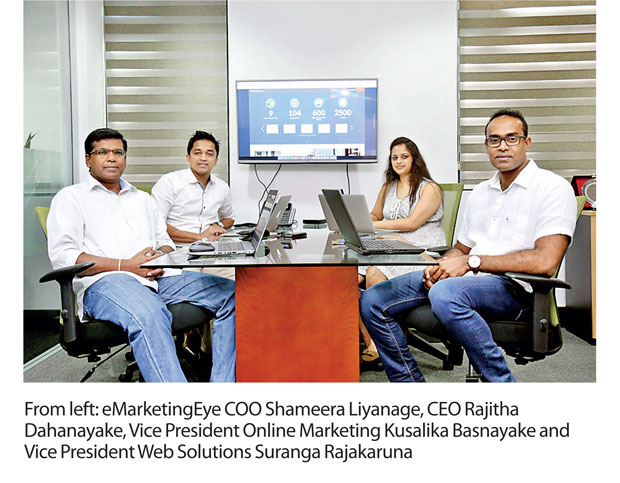 eMarketingEye, the award-winning Sri Lankan Digital Marketing Agency and a pioneer in the industry, bagged 19 awards at the prestigious Horizon Interactive Awards competition
held recently.

Notably, this was the first time the company has participated in this particular
international competition.

The 19 awards included four Gold awards, nine Silver awards and six Bronze awards. The Gold award winners were the websites created by eMarketingEye for Ayura Studio (E-commerce/Shopping category), Dilmah Seven Star (Restaurant/Food Industry category, Candor Holdings (Bank/Finance category) and DSI Tires (Corporate & B2B category).

The Silver award winners were the websites for Mosvold Hotels, Aitken Spence Holidays, Pegasus Reef Hotel, Berjaya Hotels & Resorts, Oak Ray Hotels, Mount Lavinia Hotel, Water Garden Sigiriya, Cinnamon Air (all in the Travel and Tourism category) as well as the eMarketingEye website under the Self Promotion/Portfolio category.

The websites that won the Bronze award included Jetwing Holidays, Kalundewa Retreat, Siddhalepa Ayurveda, Oman Hotels (Travel & Tourism category) as well as the Siritha Wedding Planner (Consumer Information category) and John Keells Logistics (Corporate &
B2B category).

Horizon Interactive Awards recognizes, promotes and awards the best websites, videos, online advertising, print media and mobile applications from across the globe. Each year, the competition receives thousands of entries from all over the world. All entries are reviewed by a volunteer panel of industry professionals from a variety of different backgrounds such as multimedia, graphic design, advertising and marketing.

The 2016 Horizon Interactive Awards competition received over 1,200 entries from around the world including 40 out of 50 US States and 20 countries including Australia, Bangladesh, Canada, Germany, Greenland, Hong Kong, Ireland, Italy, Malaysia, Portugal, Qatar, Russia, Singapore, Spain, Sri Lanka, Taiwan, Turkey, the UK, Ukraine and Uruguay.

Established in 2007, eMarketingEye has grown to be one of the best in the Asian region over the past 10 years, having gained international recognition for its expertise in providing end-to-end online marketing solutions to the travel and hospitality industry. The company is a Google AdWords and Analytics Certified Partner Company that offers the total range of online marketing services including search engine optimization (SEO), web development, pay per click marketing (PPC), social media optimization, online marketing consultancy, content development, internet booking engine, e-mail marketing, web analytics and hotel fact sheet development.

Since the very first award win back in 2007, eMarketingEye has been bagging international awards every year for successful online marketing campaigns and website development projects. In the year 2016, the company reached a record haul of 27 award wins during the year, making it the most successful year in its history.

Commenting on the latest wins of the company, eMarketingEye CEO Rajitha Dahanayake, "While we have won over a century of awards since inception at various international competitions, this is the first time we've entered the Horizon Interactive Awards. Being new to this competition, we are very excited to win so many awards in our first attempt. It clearly emphasizes the high quality of our solutions and we look forward to continue the winning trend in 2017."