---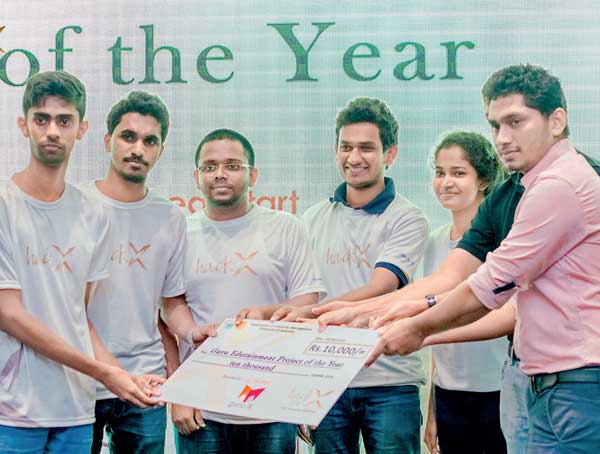 The winning team at the competition for university students receiving the Guru.lk eLearning award from representatives of the company
Guru.lk, Sri Lanka's leading eLearning portal, recently partnered with the University of Kelaniya to conduct an innovation-centric 'hakathon' which concluded this month with an open competition for members of the public.

Comprising of two parts, 'HackX 2k16' challenged students from universities to come up with ideas for new business start-ups using apps and to develop and present prototypes to a panel of business leaders in its first phase, which saw 21 teams compete.

The second phase, an open eLearning competition for the general public, was contested by five teams shortlisted from hundreds of registered applicants.

Hasitha Dela, CEO of Guru.lk commented: "ICT is a sector where a country like Sri Lanka has a clear advantage if used properly. The ICT sector targets an ambitious US$ 20 billion revenue by 2020. To reach that, the country needs to harness the talents of our youth, who should be innovative and disruptive in their approach. Our company began nine years ago with such a vision and today we drive several large eLearning initiatives in the country with a dedicated team with a passion to change education. We are very happy to be the strategic sponsor of HackX 2k16, as we want more and more youth to be entrepreneurs with innovative solutions."
Dr Ruwan Wickramarchchi, Head of the Department of Industrial Management of the Faculty of Science of the University of Kelaniya added: "HackX 2k16 brought forward a platform for the most energetic, talented and vibrant undergraduates to strive towards excellence in innovative thinking, programming and developing. The innovative ideas and products presented by the competitors cater to the burning needs of society and the market."

He said this new initiative would lead to the next generation of IM graduates that would be better equipped to meet the challenges of the changing world.

Winning teams at these competitions received cash prizes and an opportunity to showcase their products to corporate entities. As the strategic sponsor of the event, Guru.lk presented the winners with the Guru.lk eLearning award.

Guru.lk has more than 100 eLearning courses ranging from courses linked to the school curriculum to professional education, and edutainment content including IT courses, Beauty Culture and even cooking and singing. The owning company Headstart (formerly Felidae) powers many eLearning initiatives of telecom companies, private sector and Government entities including the Sipnena-guru schools programme where content is provided free of charge to school IT labs.