---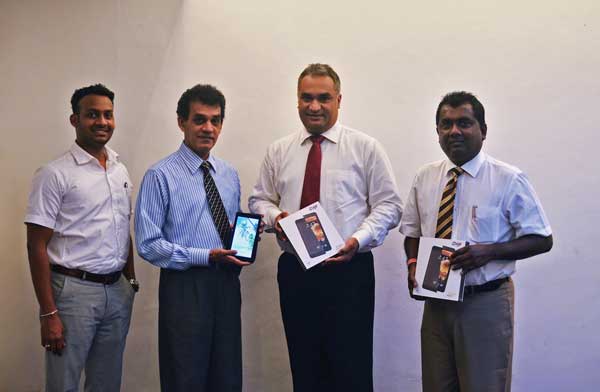 From left: Zigo Mobile Director Keshan Fernando, Zigo Mobile Director Upul Fernando, Intel Country Business Manager Indika de Zoysa and–Zigo Mobile CEO Sanjeewa Samarasinghe
Zigo Mobile unveiled its newest addition to its Nebula range of tablets, the Nebula 7.7 Intelo.

Created with today's highly mobile consumer in mind, the Intelo is powered with a 1.2 GHz Intel Atom processor, which helps mobile devices maximize on performance while conserving power. The powerful processor coupled with 1GB RAM and 8GB ROM, also supports seamless multitasking, allowing users to switch between applications seamlessly. The tablet also features an 'On The Go' or OTG feature, which allows users to easily transfer their files with the use of a USD storage device or the free OTG cable included with the 7.7 Intelo.

The Intelo is the third device in the Nebula family, adding to the already popular 8.1 inch and 6.9 inch tablets. This is the first Intel-powered Nebula device and heralds in a new era of powerful mobile devices under the Zigo brand, which aims to bring affordable Internet-enabled devices to a wider audience in Sri Lanka.

Priced at Rs.13,990, the Intelo brings together all the great features expected from a seven-inch device, including 21Mbps downloading speeds, VGA front and 2MP rear cameras, Wi-Fi, GPS and Bluetooth connectivity. In addition, the Intelo also supports dual SIM and Dual Standby, extending the capabilities of the tablet with the potential to replace a mobile phone altogether.
Commenting on the launch of the Intelo, Zigo Mobile CEO Sanjeewa Samarasinghe said, "Consumers are doing much more with their mobile device today and expect higher performance at a more affordable price point. The collaboration with Intel allows us to embark on an era of innovative solutions for this significant market segment in Sri Lanka and possibly the region."

Zigo Mobile, a subsidiary of UAE-based Serendib Ventures FZC, has been committed to bring the latest technology in mobile communication service to the masses at an affordable price print. The collaboration with Intel is part of its initiative to leverage the rapid innovations sweeping the technology space and the research and development outlay offered by the processor manufacturer, enabling the company to develop and deliver faster and more reliable products to a wider consumer segment.

Intel EM Ltd Sri Lanka Liaison Office County Business Manager Indika de Zoysa said, "Intel's technology is powering a new era of innovation that enables amazing new computing experiences. We look forward to working with brands like Zigo Mobile to bring to market more Intel-powered devices across a range of price points in Sri Lanka, in the coming months, making technology truly accessible by all."