---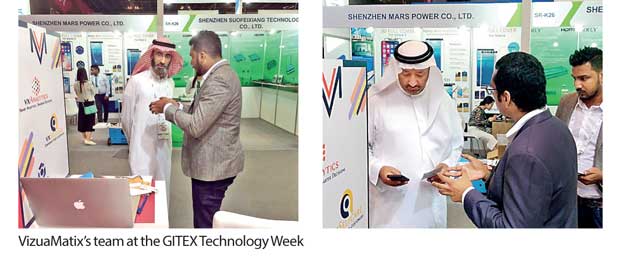 VizuaMatix, an innovative Sri Lankan software solutions provider, is displaying their state-of-the-art products and services at GITEX Technology Week this October.

One of the largest exhibitions in the region, GITEX is held in Dubai at the Dubai World Trade Centre on 8-12 October. VizuaMatix joins a delegation of eight companies chosen by the Export Development Board to represent Sri Lanka at the exhibition.

VizuaMatix built a reputation for excellence during its years supplying telecommunication service providers with reliable yet cost-effective policy control and data visualization and monetization solutions. The cutting-edge technology that allows billions of records to be analysed in under a second in the telecommunications sphere has a wide range of applications in other industries too, translating vast volumes of customer data into patterns and trends that businesses can understand and
act on.

The management of the company, working on the leading edge of technology, foresaw the need for affordable solutions to big data challenges even before 'big data' became a buzzword. Having established their base in the challenging telecom sector, serving leading local and international service providers, VizuaMatix is now expanding its offering to industries such as finance and retail, as well as the public sector.

Chief Executive Officer, Theekshana Kumara, has always affirmed that Sri Lanka has people with the aptitude to accomplish great things, and his leadership has had VizuaMatix supporting local talent, partnering with universities, and providing research opportunities and mentorship for students.
VizuaMatix's strong research culture, willingness to learn and flexibility have been an advantage on previous forays into international markets, even when compared to big industry leaders. Rather than being tied to solutions that become obsolete increasingly quickly or offering inflexible specifications, VizuaMatix adapts the latest technology into made-to-measure products that serve the client's needs precisely.

They plan to capitalize on and showcase these strengths at more events in the near future, including Infotel at BMICH, and AfricaCom in Cape Town. In December, they will uphold their commitment to nurturing Lankan talent as Platinum Sponsor of the IASSL (Institute of Applied Statistics, Sri Lanka) International Conference 2017, themed 'Statistics for Good Governance',to be held in Colombo.
The three products that will be showcased at GITEX, while they complement each other, can also be deployed separately for various industries. vxAnalytics, the most powerful data analytics platform to be built in Sri Lanka, can turn big data into actionable insights almost instantly, and features an easy-to-understand dashboard that does not require a data scientist to interpret the results of the analysis, making it a valuable tool for any organization.

It is able to use machine learning and pattern recognition to create value in all parts of the value chain by forecasting trends, analysing current patterns and highlighting areas where optimization could benefit an entity. For businesses operating in an ultra-competitive marketplace, its ability to determine customers' patterns of behaviour is an asset, allowing them to offer the personalized service every customer wants.

VizuaMatix's Policy Charging and Control platform for telecommunication service providers, vxPCC, gives them full control of their network, so they can offer their users packages that meet their needs effectively. With vxPCC, operators can optimize video and web traffic, boost network speed, and generate over-the-top revenue from mobile internet. It integrates seamlessly with systems from other vendors, and offers payment options that lower not only capital expenditure, but also operational expenditure by offloading by offloading Data Pack Charging from the existing Online Charging System. Combined with the analytics and selfcare components, it is a complete solution, empowering subscribers and growing service providers' revenue, all at an affordable cost.

The third solution VizuaMatix offers, vxSelfcare, lets businesses put the power in their customers' hands, and be available 24/7.A rich suite of mobile and web apps that allow customers to access information, and handle transactions at their convenience, vxSelfcare also offers an intelligent in-app chatting feature.

Tightly integrated with its powerful chat engine, it can automatically respond to complex customer queries using artificial intelligence and deep learning. Eliminating the need for human agents to be available constantly.