---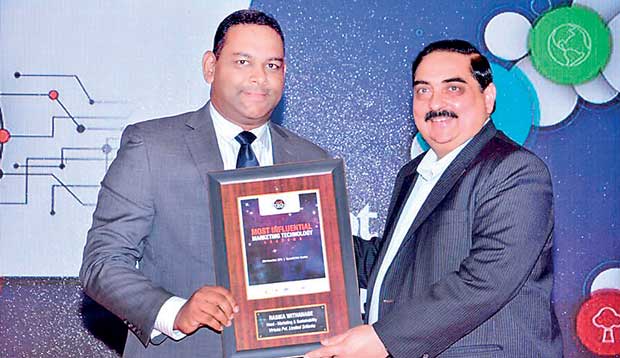 Rasika Withanage, head of marketing & sustainability (Sri Lanka) at Virtusa (left) receiving the award from Nand Kishore Badami, Chairman of World Marketing Congress / CMO of Cisco India and SAARC
VirtusaPolaris, the market-facing brand of Virtusa Corporation and Polaris Consulting & Services, Ltd. and a leading worldwide provider of Information Technology (IT) consulting and outsourcing services, announced that Rasika Withanage, head of marketing & sustainability (Sri Lanka) at Virtusa, was recognizedon the list of 100 most influential marketing tech leaders by the World Marketing Congress.
The event took place at Taj Lands End, Mumbai, India. More than 1,000 professionals from over 100 countries were in attendance.
The list, compiled by the World Marketing Congress, is the result of a research panel with a collective experience of over 100 years, tracking and recording the achievements of extraordinary people in technology.
Potential candidates were judged on their marketing competencies, strategic perspective and future orientation, track record, ethics, integrity, commitment to sustainability and the best use of technology for marketing.
"I am humbled to receive this prestigious honor in the company of my esteemed peers. Technology has come to be a cornerstone of our profession and with its continuing evolution it further refines our insights and increases our reach.Each day I am reminded of the importance of incorporating technology in raising our brand and achieving our marketing goals," said Rasika.
Rasika has successfully incorporated his knowledge and experience into strategic marketing initiatives during his time at Virtusa. The company was recently recognized through several awards in Sri Lanka, including Best Exporter in the Presidential Export Awards; Export Brand of the Year at the SLIM Brand Excellence Awards; and three gold awards at the 23rd Annual National Chamber of Exporters Awards.
Rasika holds an MBA from the University of Wales in UK and a postgraduate certificate in Sustainability from the University of Cambridge in UK. He is a member of the Chartered Institute of Marketing, UK.
The World Marketing Congress is governed by an advisory board comprising senior professionals from various countries and is partnered with CMO Asia, World Brand Congress, and World CSR Day.