---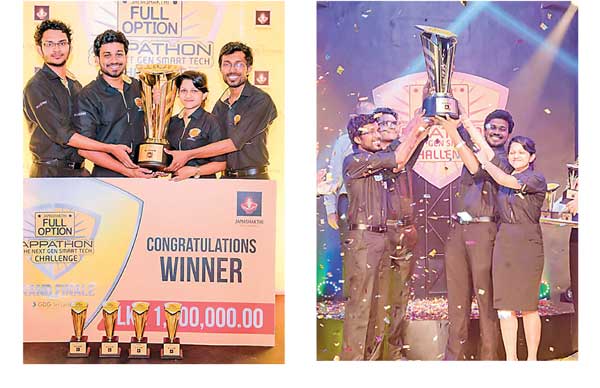 The inaugural Janashakthi Full Option Appathon – the Next Gen Smart Tech Challenge came to a close with team While Loop emerging winners at the grand finale, taking home the grand prize of Rs. 1 million.

Team 'Winter Rise' came close behind as the runner-up, winning a cash prize of Rs. 200,000, whilst teams Four Loop, 'Parallax' and 'In-Laws' were the finalists, taking away cash prizes of
Rs. 100,000 each.

Conducted under the theme of 'solutions to issues caused by traffic', the Janashakthi Full Option Appathon Challenge reached its grand culmination on the 28th of October at the Park Street Mews in Colombo. The event was graced by Muhunthan Canagey, Managing Director/Chief Executive Officer of the Information & Communication Technology Agency (ICTA) of Sri Lanka who presided as Chief Guest, while Prof. Gihan Wickramanayake of the University of Colombo - School of Computing was the Guest of Honour.
The Grand Finale of the Janashakthi Full Option Appathon Challenge featured an eminent judging panel comprising industry forerunners Alyna Haji Omar, Chief Executive Officer of J. Walter Thompson Sri Lanka, Dr. Harsha Subasingha, Chief Executive Officer of CodeGen, Ahmed Irfan, Founder of Innovation Quotient and Ehantha Sirisena, Chief Executive Officer/Managing Director of Omak Technologies (Pvt.) Ltd who adjudged the five presentations and app demonstrations made by the finalists at the event.

The winning solution by team 'While Loop' featured a carpooling system called 'Take Me There' that went above and beyond the norm of the general concept of carpooling, and was therefore adjudged the most effective solution presented in line with the theme of the competition.

Sharing their thoughts on the win, team members Sajini Shanilka Koongahawatta, Sulochana A. Kodituwakku, W. M. Umesh Prabushitha Jayasinghe and S. G. H. Liyanage, undergraduates of a reputed university said, "Take Me There' is an application designed by our team to help avoid the single usage of vehicles as a means of reducing traffic. What is unique about our app-based solution is that it is not simply a carpooling system, but is inclusive of tech-based value additions that are beneficial to both the users and the environment. We are extremely grateful to Janashakthi for empowering us and providing us with the ideal platform to showcase our innovative and tech skills in providing solutions to issues that affect the general public."

"Our heartiest congratulations to team 'While Loop' for emerging winners at the inaugural Janashakthi Full Option Appathon Challenge. As a leading Insurance provider in Sri Lanka that strives to offer inventive solutions to our customers at all times, we believe that innovation is fundamental for the progress of our organization and our nation as a whole. This initiative was therefore conceptualized and rolled out with the aim of creating a more perceptive generation of solution-seeking, technologically-driven young minds for the future. We will continue in our efforts to help Sri Lankan youth discover their limitless potential in combining innovation and technology through an extension of this initiative in the year ahead," said Jude Fernando, Chief Executive Officer of Janashakthi General Insurance Limited.

Powered by the world-renowned Google Developers Group (GDG), the 'Janashakthi Full Option Appathon Challenge' witnessed teams progress through various phases of the competition with guidance and mentorship provided by industry experts to help bring their ideas to fruition.