---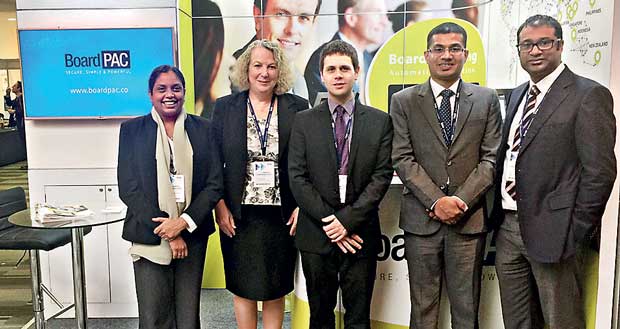 A breakthrough Board and Committee meeting automation solution developed in Sri Lanka has been showcased at one of the world's leading annual forums on governance which concluded in London recently.

BoardPAC, the iPad enabled platform for paperless meetings was presented by its developer IronOne Technologies at the 2016 conference of the Institute of Chartered Secretaries and Administrators (ICSA) known universally as 'The Governance Institute,' to an audience of 600 attendees from all over the UK. A delegation led by IronOne founder and CEO Lakmini Wijesundera participated in the conference for the first time this year.

IronOne Technologies also took Silver sponsorship of this forum and provided a comprehensive demonstration on Board Meeting Automation and quick training sessions on the product to visitors to its stall. These sessions outlined the essential personal skills required at board meetings, including dealing with difficult directors and handling disagreements while taking accurate minutes using the product's features designed to overcome such challenges.

BoardPAC provides users the ability to view and approve papers from the ease of a Board Member's iPad. It has a host of features such as collaboration, meeting management and RSVP, the ability to search and refer to past board papers, as well as to annotate and approve documents and update agendas. The solution meets with the highest security standards including the ISO 27001 certification, which means that all sensitive information is stored on servers in the firm's home country, making such information beyond the reach of acts governing other countries, such as the US Patriot Act.

"Board PAC is one of our flagship products and is emerging as a global leader in its category," Wijesundera said. "Given the profile of attendees, the ICSA annual conference was the perfect forum to demonstrate the product, which we expect to do very well in the UK and mainland Europe in the years ahead. Though it was our first time exhibiting in London, we found the delegates very receptive to seeing how

we use technology to support the needs of board members and administrators, manage sensitive information securely and drive organisational performance."

Jonathan Samuel, Business Development Executive of ICSA said: "It was nice to see organisations from all over the world contribute to our conference, and delegates appreciated the nice looking stand and extremely friendly staff on hand to explain how the platform enables board members and administrators make the transition from paper to a digital medium." The biggest ICSA Annual Conference to date took place this month at ExCeL London and comprised of more than 50 sessions covering key governance topics. Spanning two days, the conference gathered company secretaries and governance, risk and compliance professionals from different sectors at all levels of seniority. It featured over 65 speakers, including the former Lord Mayor of London, who discussed the current trends and challenges of good governance.

BoardPAC was the sole Sri Lankan firm at the annual 2-day conference, which drew governance, risk and compliance professionals from different sectors at all levels of seniority. A National Best Quality Software Gold award and Green IT award winner, IronOne's BoardPAC already has the largest market share for board meeting automation in Sri Lanka, Malaysia and in the Asia Pacific region. In Sri Lanka, BoardPAC is the trusted board automation solution used by leading companies including Carson Cumberbatch PLC, John Keells Holdings, Commercial Bank, Sampath Bank, Nations Trust Bank, Sri Lankan Airlines, Sri Lanka Telecom, Hemas and MAS Holdings as well as the Colombo Stock Exchange (CSE).