---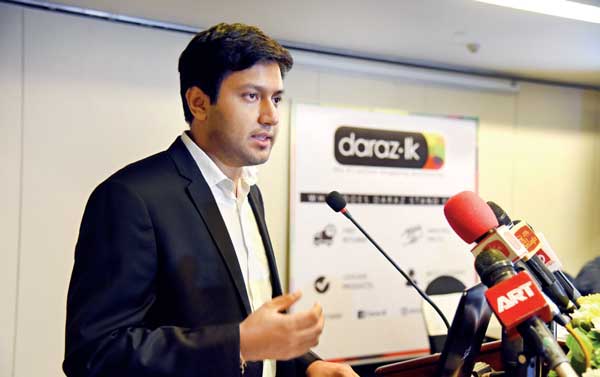 Country Manager for Daraz Sri Lanka Saurabh Chauhan speaking at the press conference to announce the merger of Daraz and Kaymu
Pic By Kithsiri De Mel
By Supun Dias
South Asia's largest e-commerce platform Daraz has entered the Sri Lankan market by merging with Kaymu, with the aim of bringing a wide range of high-quality products to Sri Lankan customers, offering attractive discounts.

Daraz was founded in 2012 and is presently backed by Ooredoo and CDC Group which is the UK Government's Development Finance Institution.

Daraz already has operations in Pakistan, Bangladesh and Myanmar in the Asian region. The announcement was made at a press conference held recently at the Cinnamon Grand Hotel in Colombo.

Country Manager for Daraz Sri Lanka, Saurabh Chauhan, said that with the internet penetration at an unprecedented level, his company believes that Sri Lanka is a developed market with regard to online shopping.

"We have similar operations in other countries by merging with Kaymu. In Sri Lanka, it is another example of a similar merger of operations with Kaymu. We have warehouse facilities and other important facilities that an e-commerce business should have. And that is where we believe that we have the edge in the local e-commerce platforms. The deep discounts we offer for the best smartphone available, is something that no one is able to offer," he said.

"Daraz is planning to hold monthly discount campaigns, deep discount campaigns and Black Friday campaigns in the next few weeks to come and to continue it throughout the year," he added.
"The year 2015 was a great year for Daraz especially with the company introducing the 'Black Friday' concept which completely revoloutiinized the online markets in the countries we operate in," he noted.

Kaymu has been very successful in online penetration is Sri Lanka and with the merger with Daraz, it would be bale offer unique value propositions such as a secure brand buying experience and free returns as per the Daraz global offering to Sri Lankan customers.